Ok here it is, the final chapter of my plenty of fish series… I know I've been slack and from here on I will be updating the blog more often!
To kick it off, last August (shit it's really been that long ????) a mate and I had a rain day at work and decided to make the most of it. Being cold, wet and windy we weren't really expecting much but after a friend sent us a photo of a barra at Kinchant we decided to try our luck in the Grady out on the dam. After about an hour of freezing and being rained on I was about to call it a day early when I noticed a few baitfish flickering on a shallow weed edge as we drift down along a point. A few minutes later in the corner of my eye I noticed a disturbance in the exact spot so I motored up and dropped anchor so we could work the area properly. About 5 casts in Justin hooked up to a 106cm barra on a soft plastic, then after a quick pic, a few minutes later it was my turn with a 118cm model on the Realis Jerkbait 100sp. For the next 40 minutes we went fish for fish with 8 metre plus specimens landed between 103cm and 118cm on vibes and both shallow and deep jerkbaits. We decided to pull the pin and left them biting because the rain got crazy and I'd frozen my ass off long enough. On the way home we called our mate who had sent us the pic and inspired the trip and it turned out that it was an old pic and that he'd sent it to stir us up… Oops!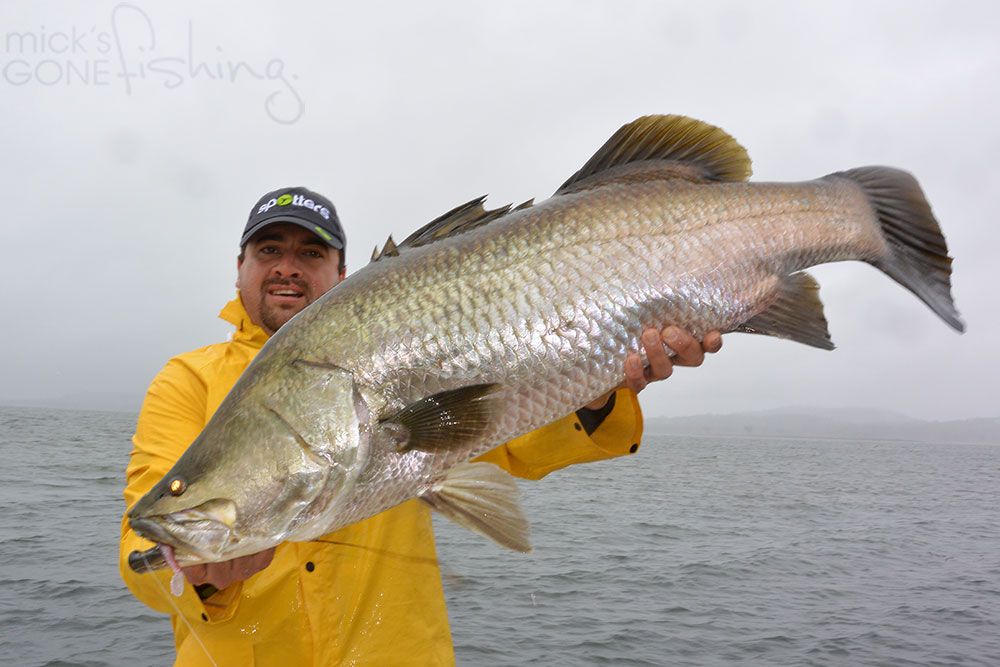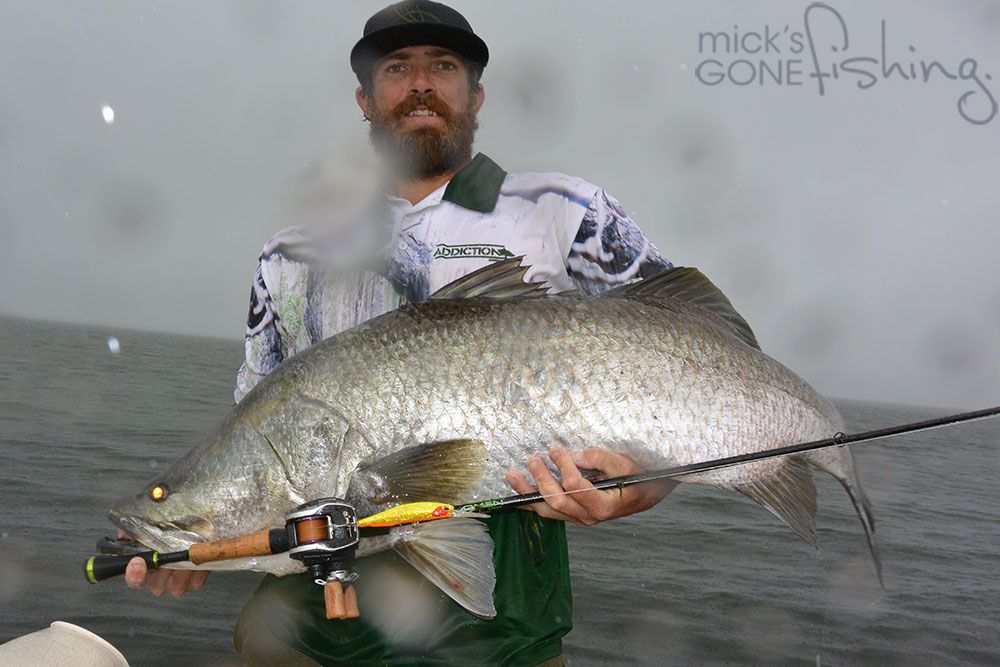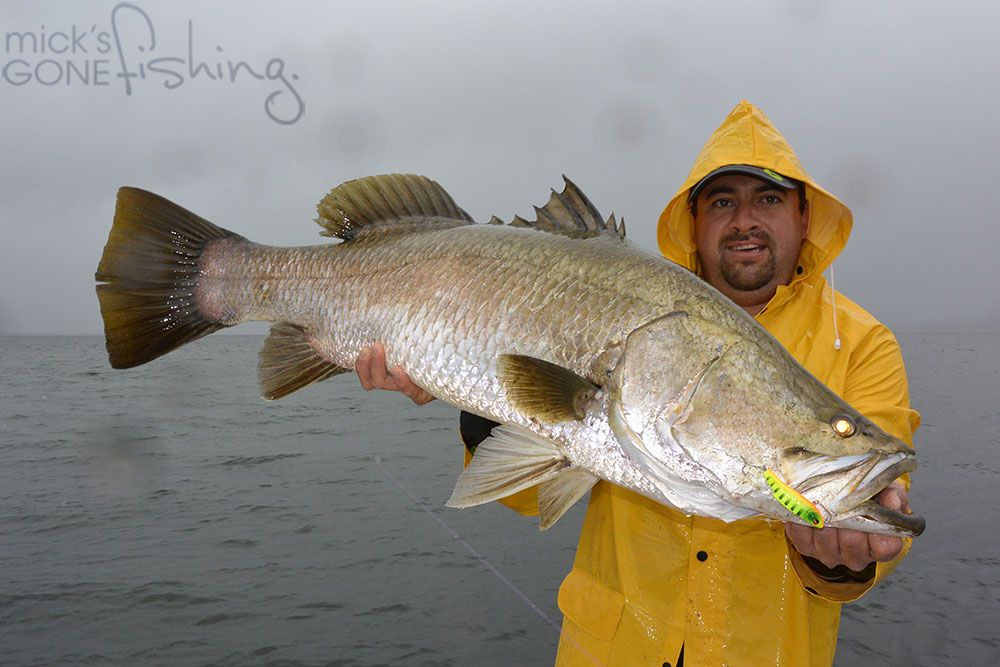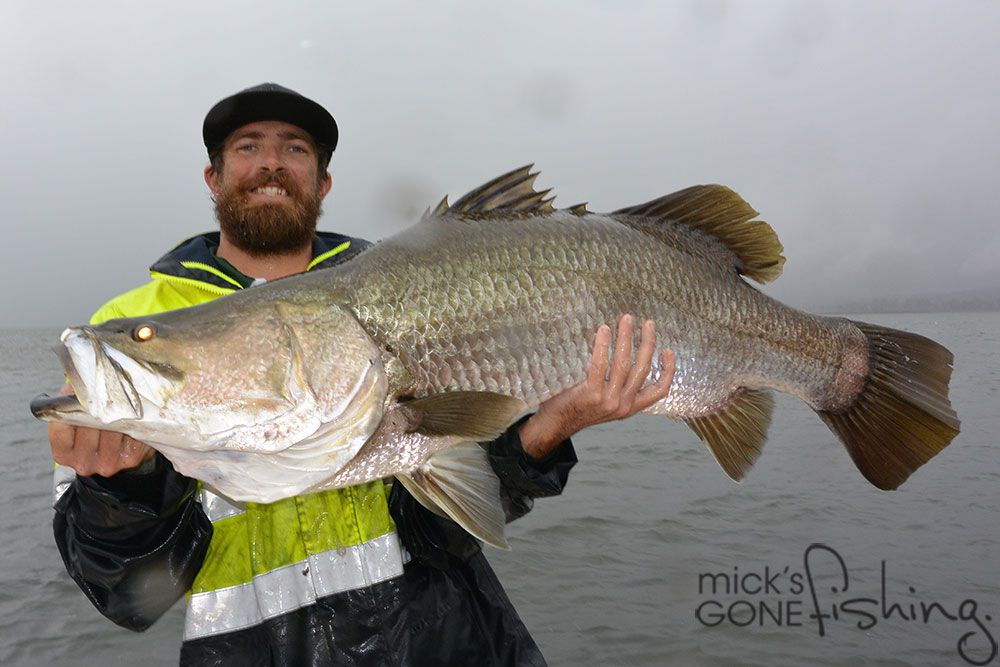 The following day work was canned again so I decided to give my brand new 9 weight Sage Xi3 a few practice casts. This time I was land based and set off on foot for a long walk around the dam. Along the way I saw a heap of fish up in the shallows in the warmer water and while getting them to eat a fly wasn't too difficult, setting the hook and keeping them connected was. After 5 bites I'd had 3 hookups and it wasn't until my 6th shot that I finally made one stick. At 109cm and after an epic battle I had a new PB fly caught barra on the bank, to top it off it was caught on one of my very own home made flies.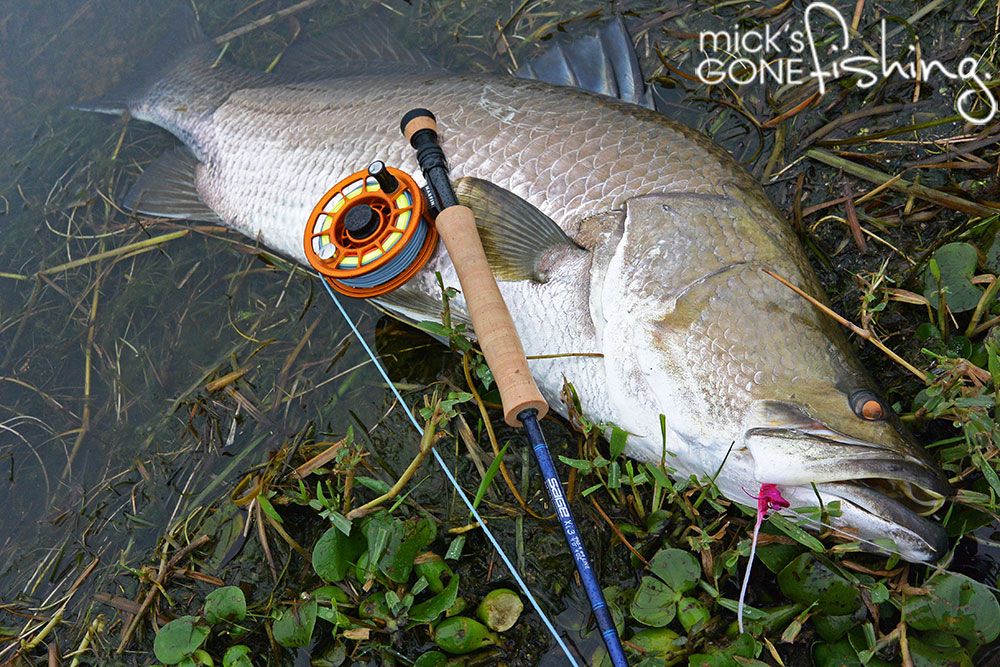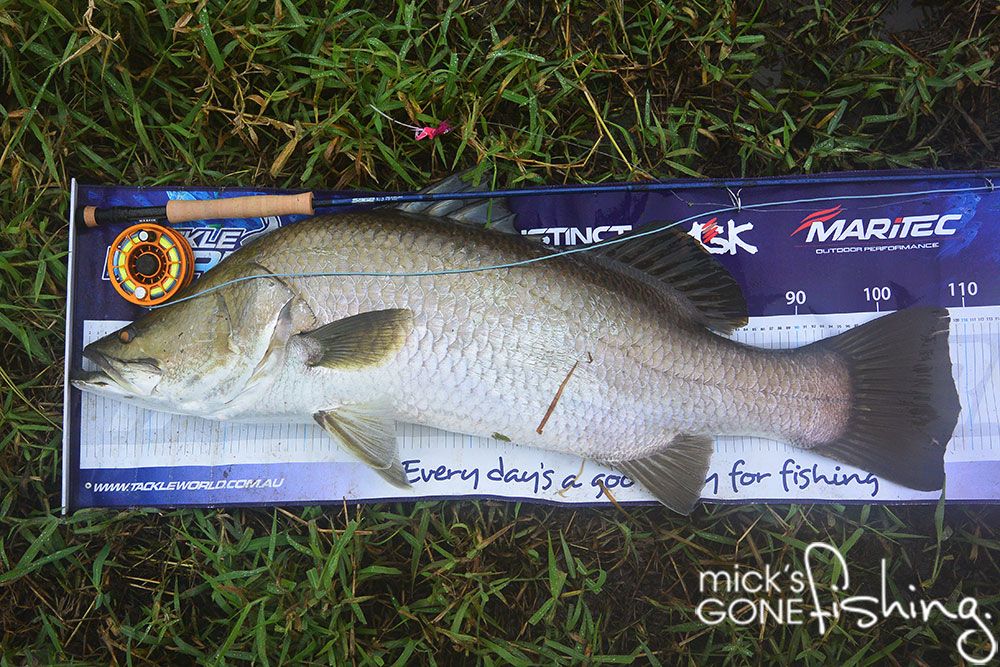 Next trip was out over the hill chasing saratoga on the new Realis Shinmushu, which means – the ultimate bug, a fully customizable top water cicada with interchangeable legs and wings. It was a relatively eventful day with plenty of toga and sootys on this new lure. Pete even wrangled a piglet out from the bushes…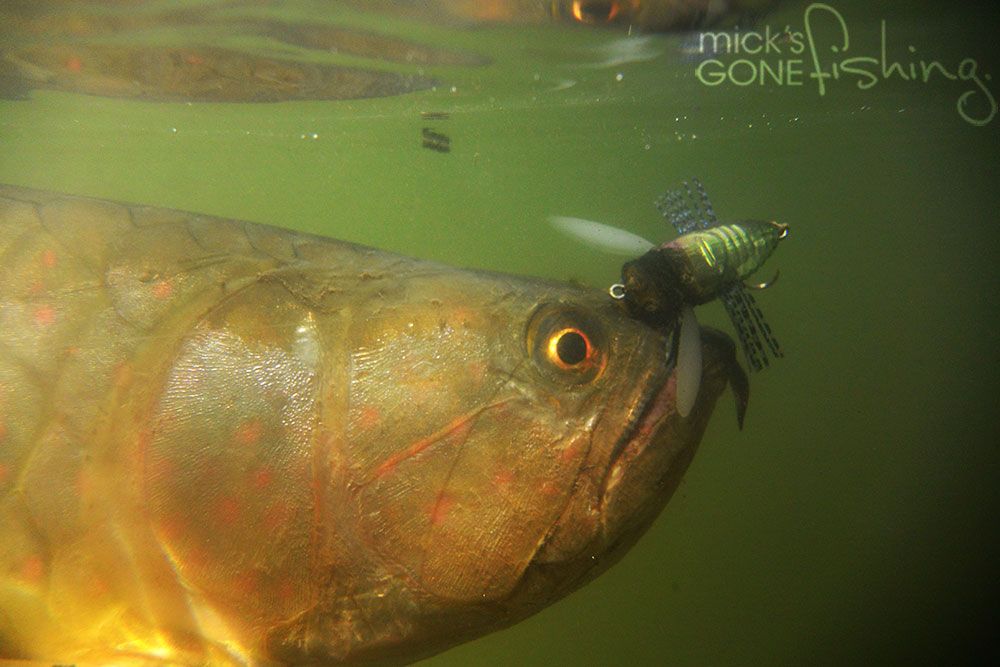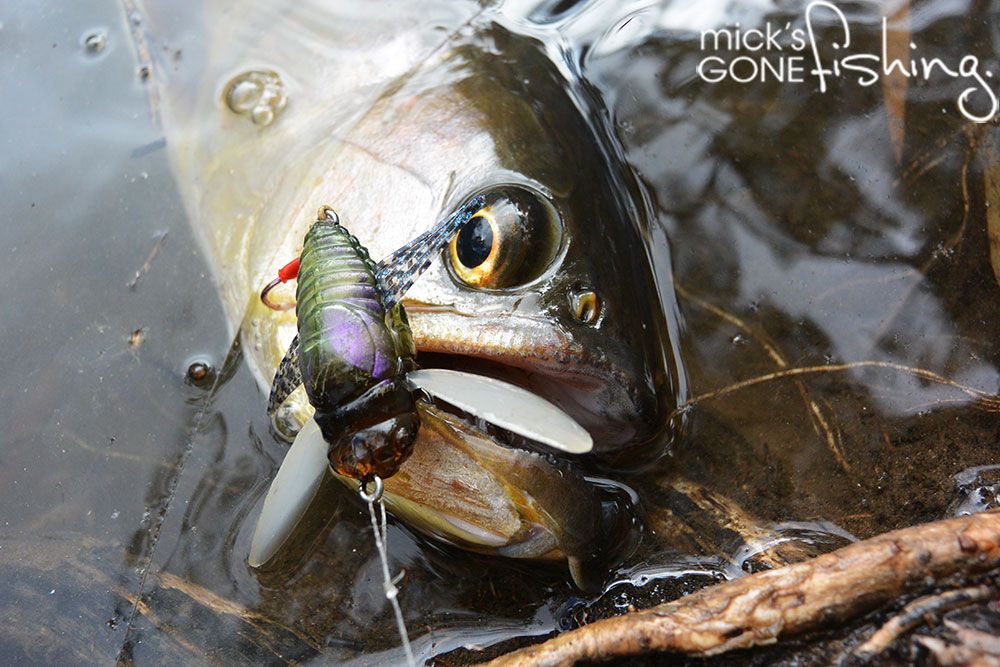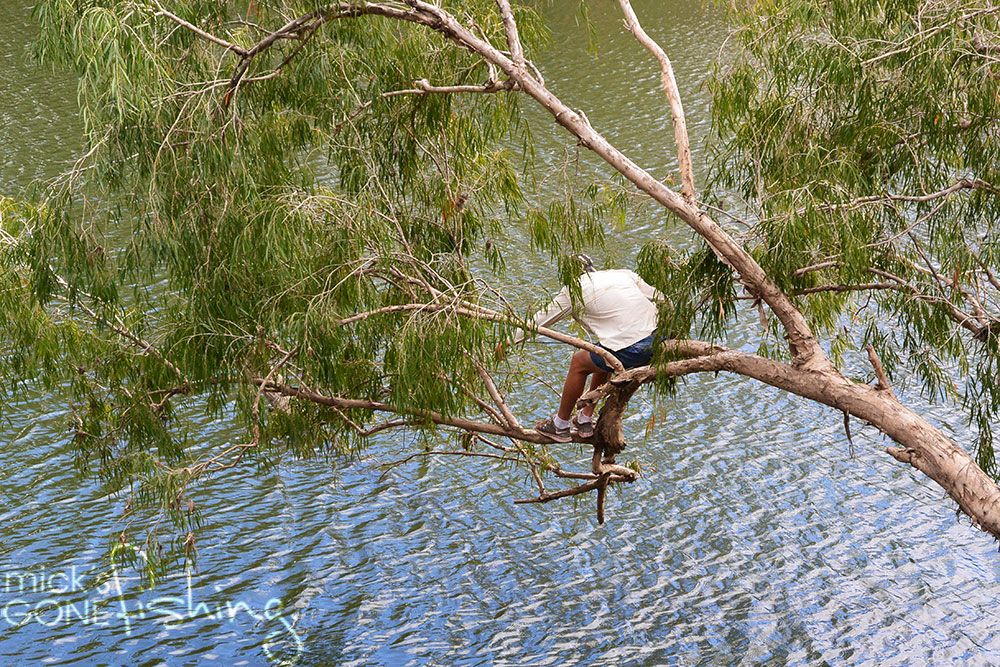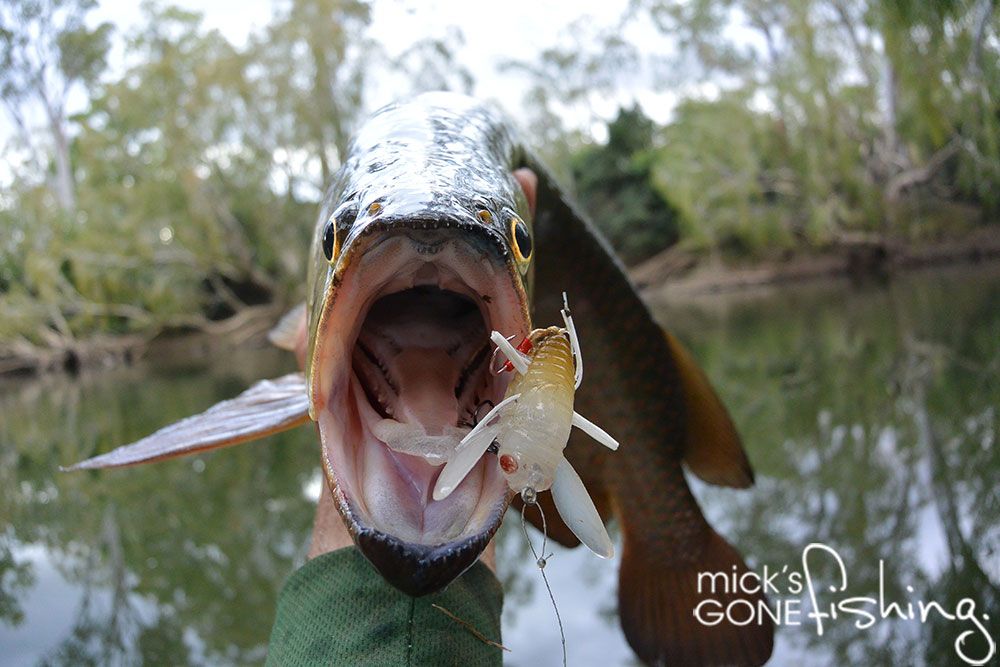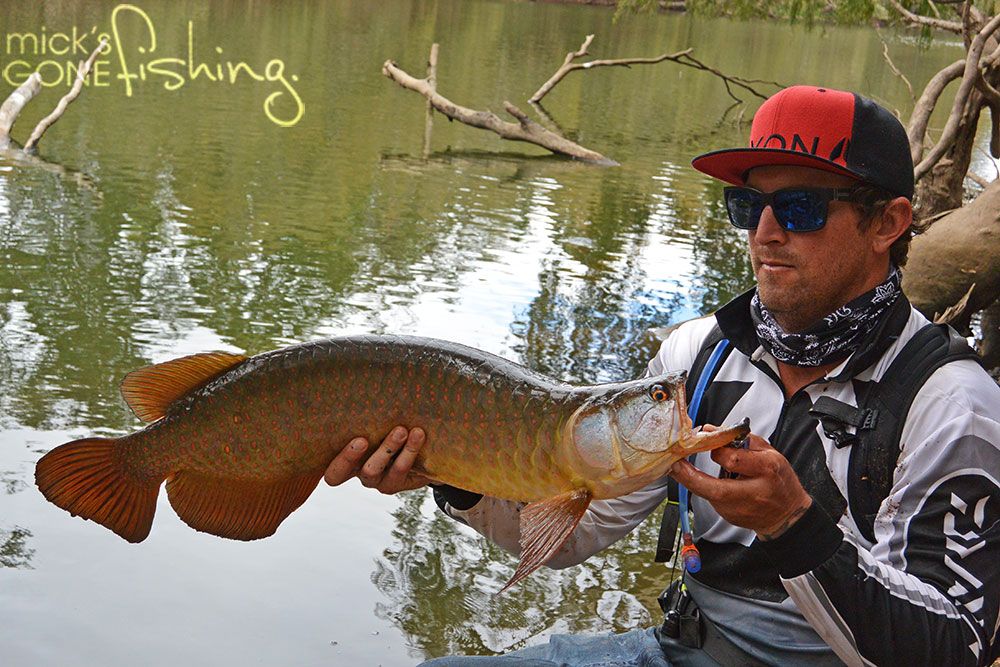 Next up Dad and I took my boy Leo out to chase a few spanish mackerel, the weather was nice so we just kicked back and trolled big Xraps and showed Leo what it's all about.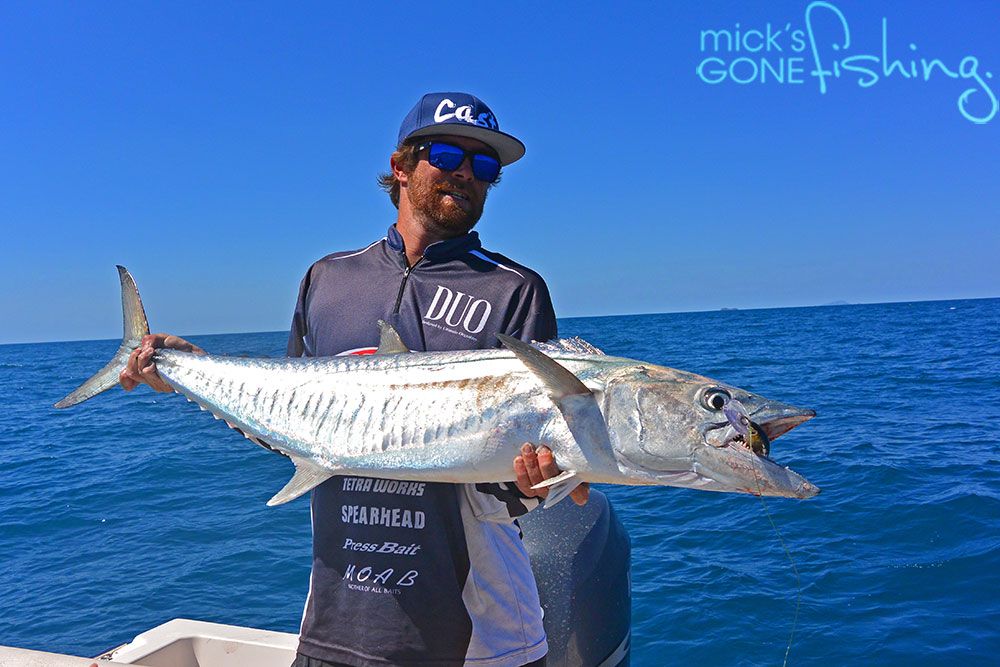 A few days later Adam and I went for a run to see if we could jig a few up. We tried several locations but all we could rustle up was a spotty mackerel which Adam scored. I copped a proper smoking by something unstoppable and it was looking like I was coming home with a donut. That was until we pulled up on the way home and first drop I fluked a decent permit from 20m of water.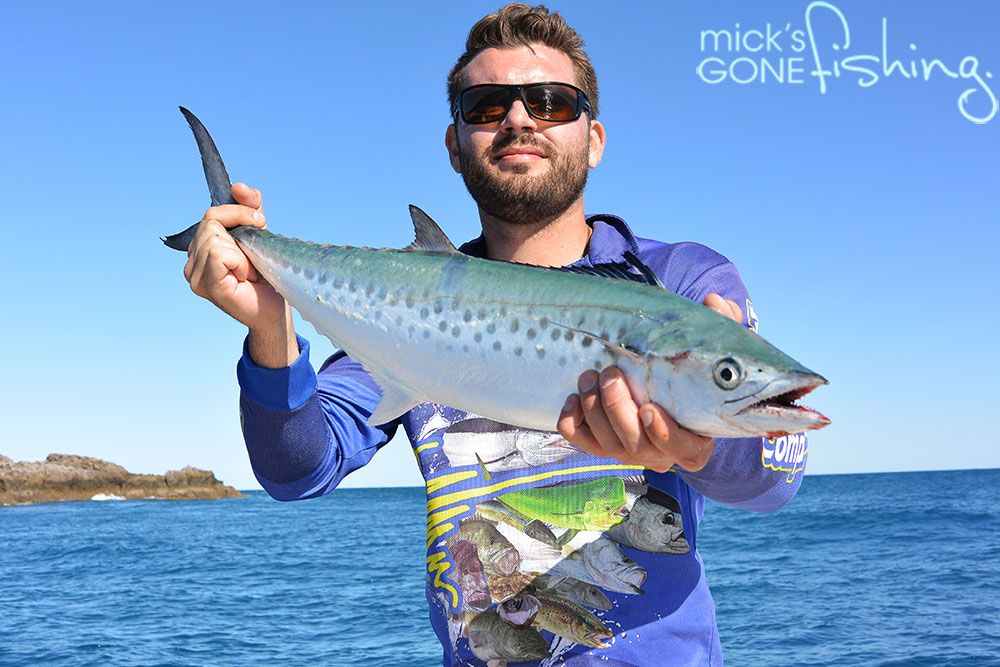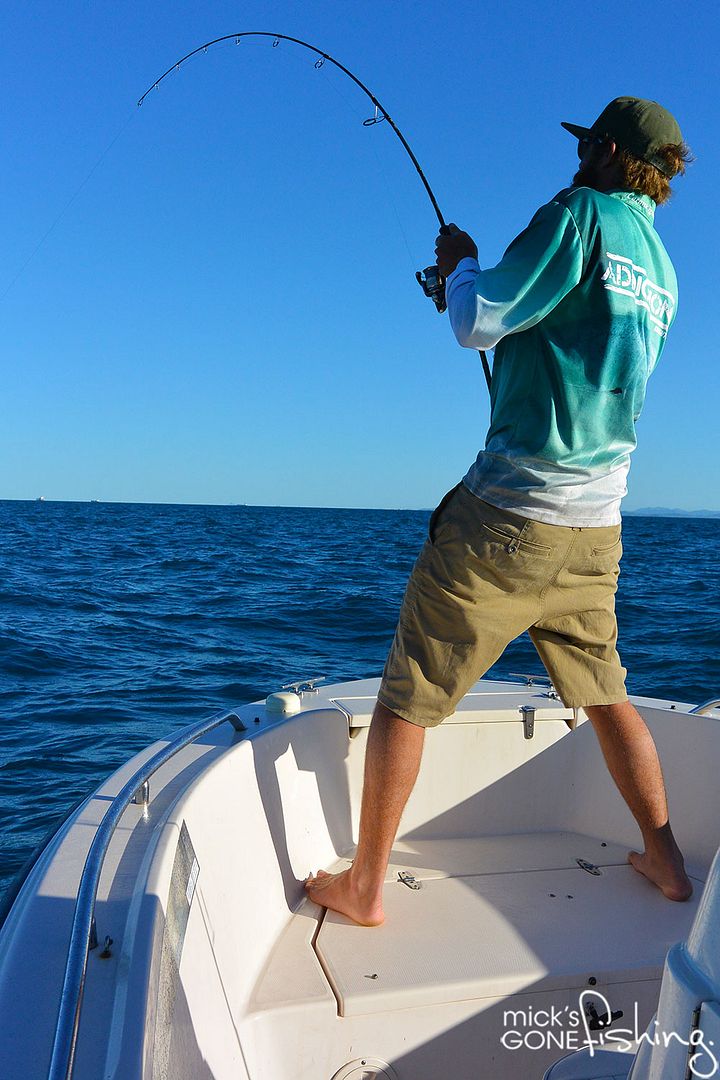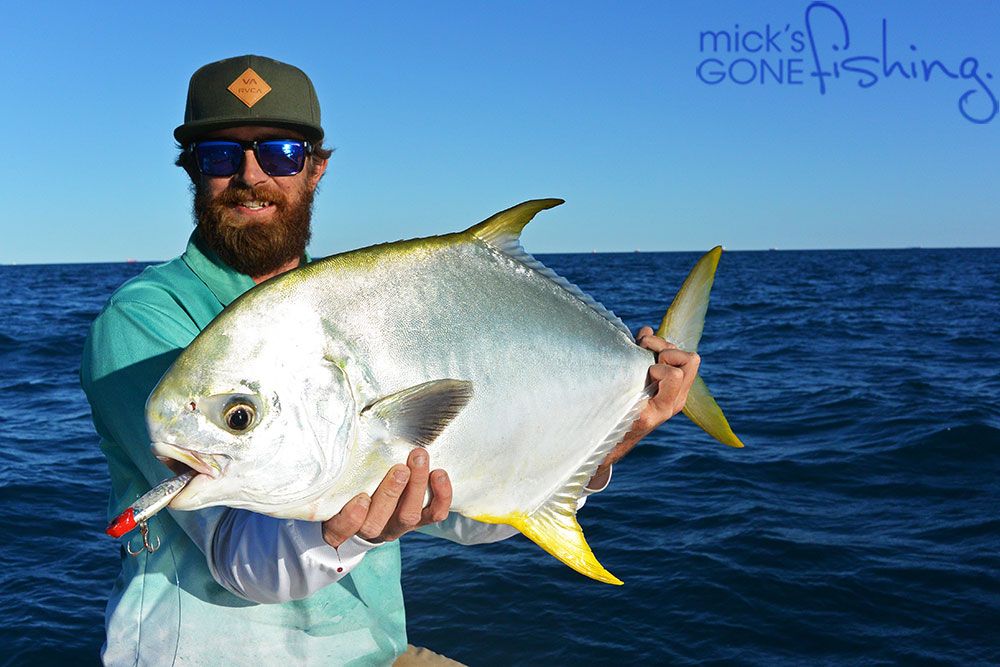 One last trip out over the hill before heading off to Kiribati saw my mate Shaun catch his first ever toga, it was a fairly quiet day but we found around 30 fish sitting under the one tree and a lot of them were reluctant to bite due to what I suspect was a breeding congregation. We ended up with 3 fish all up and saved a drunken lorikeet from drowning…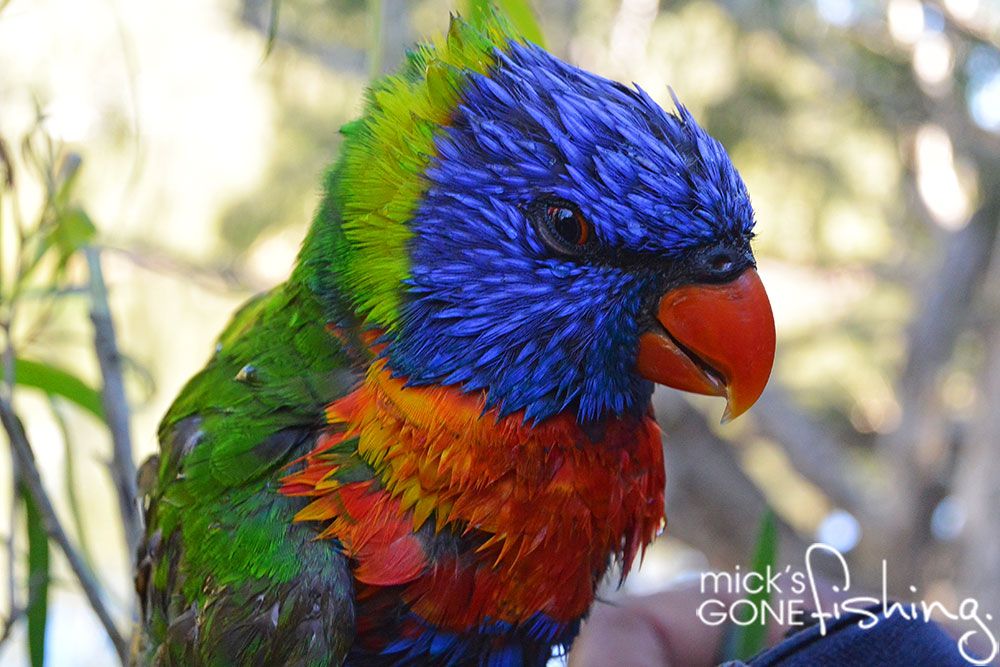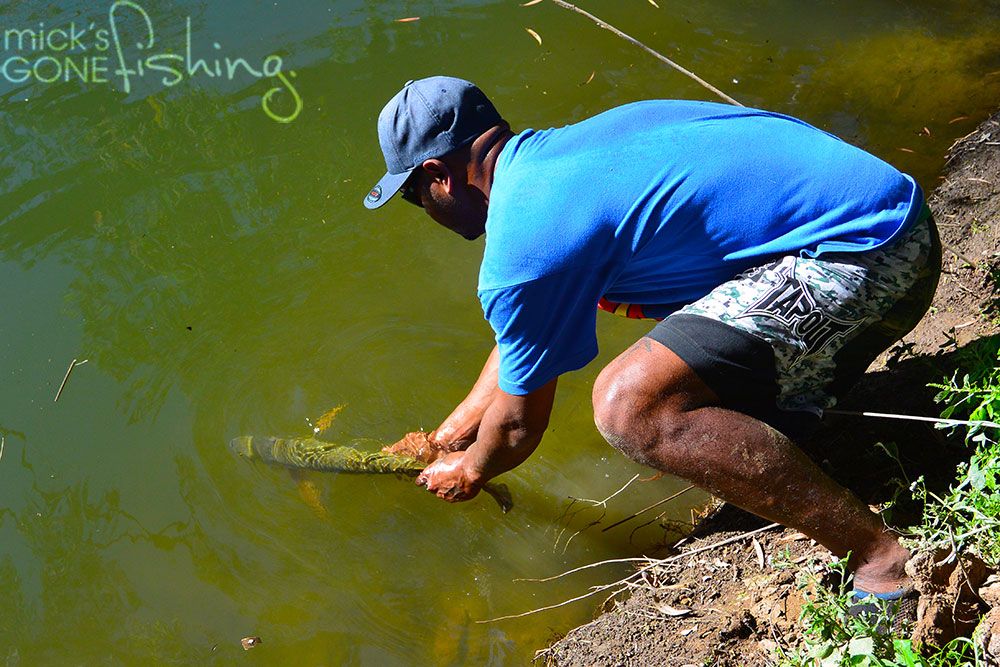 Then we were off to Kiribati, there is a full article I have written up in the latest Cast eMag but here are a few pics which didn't make the cut…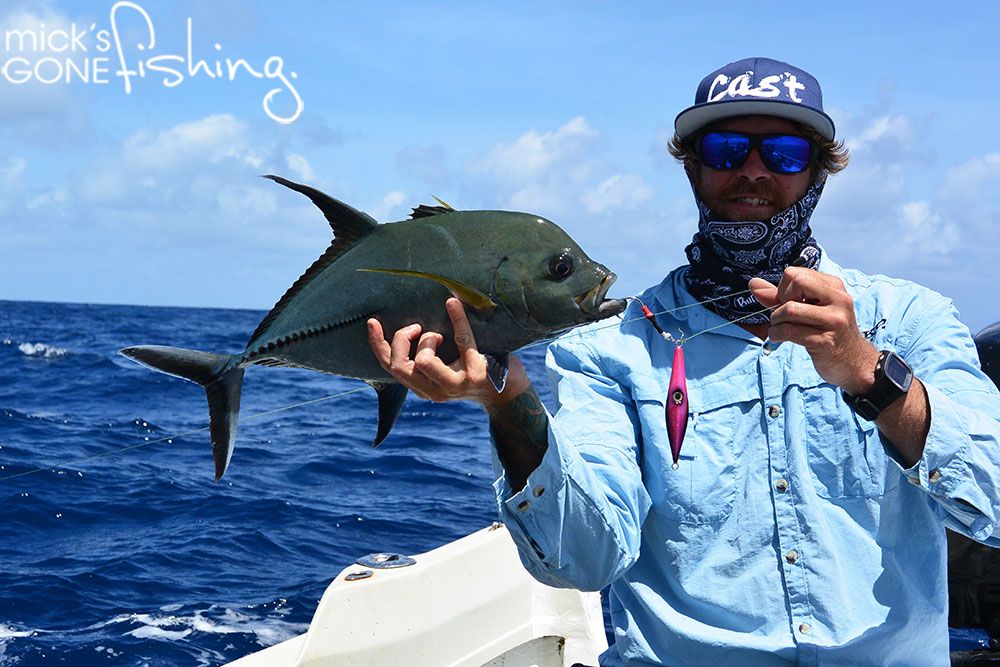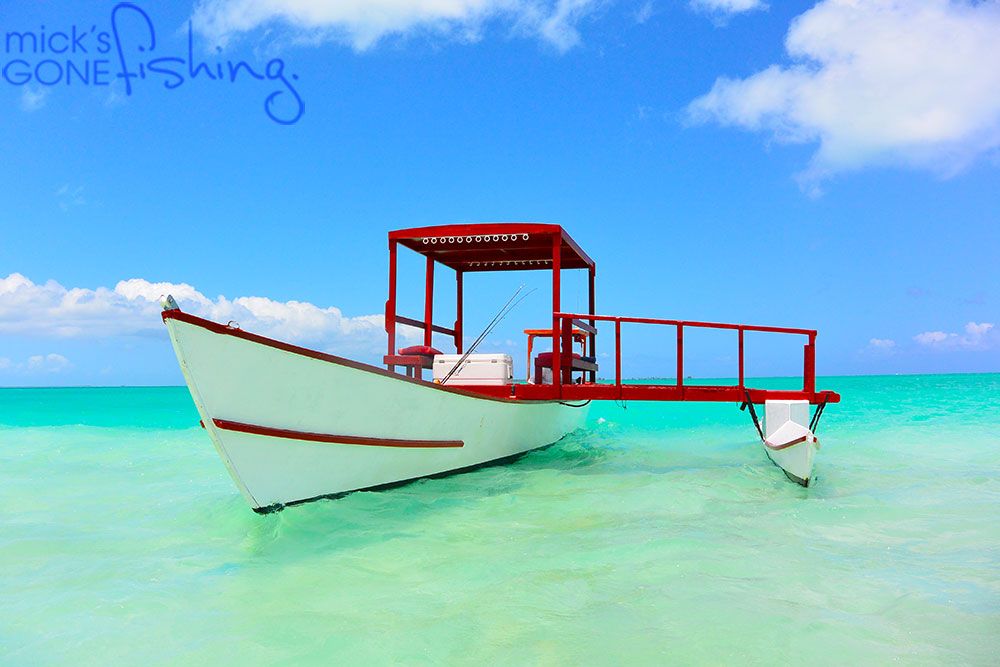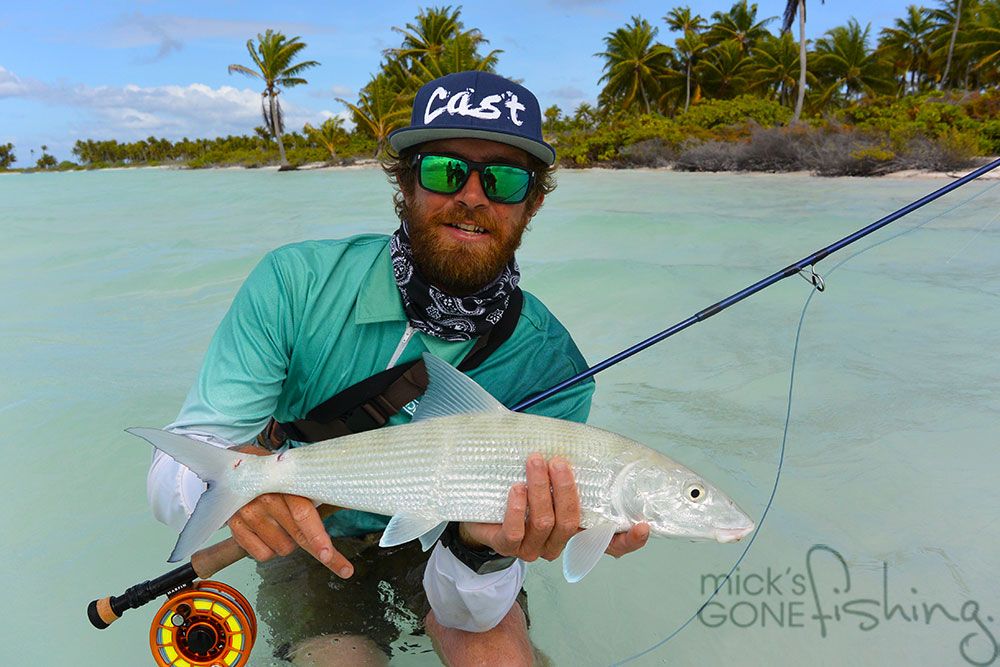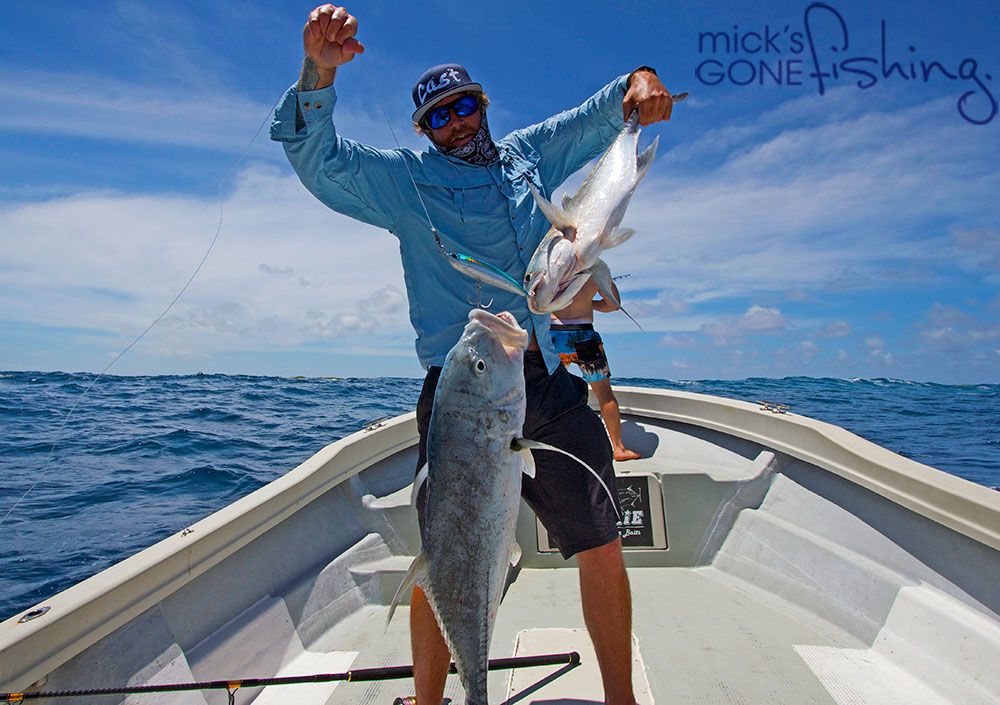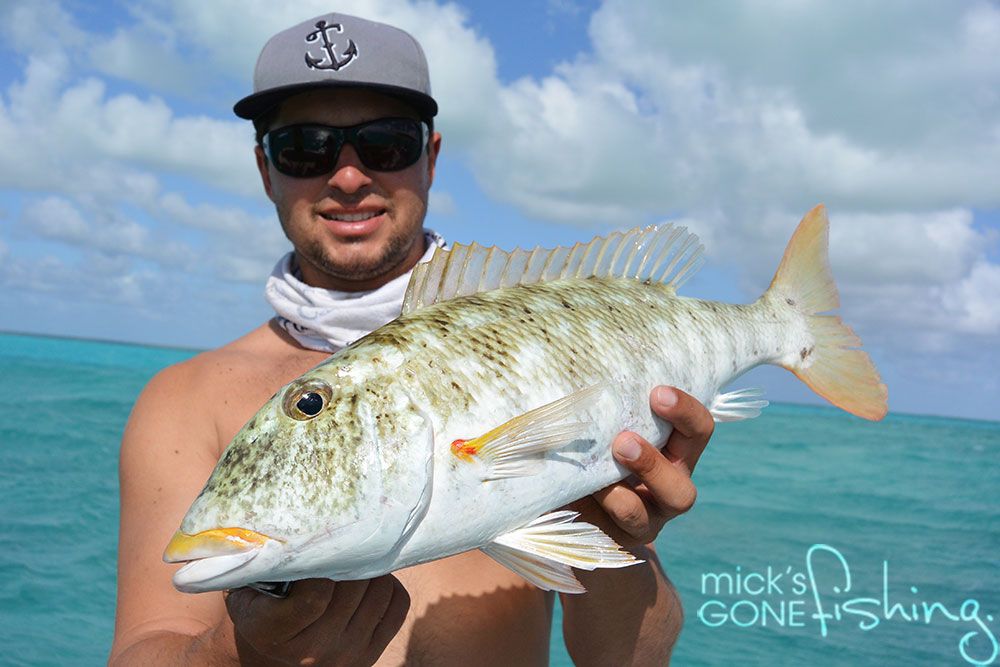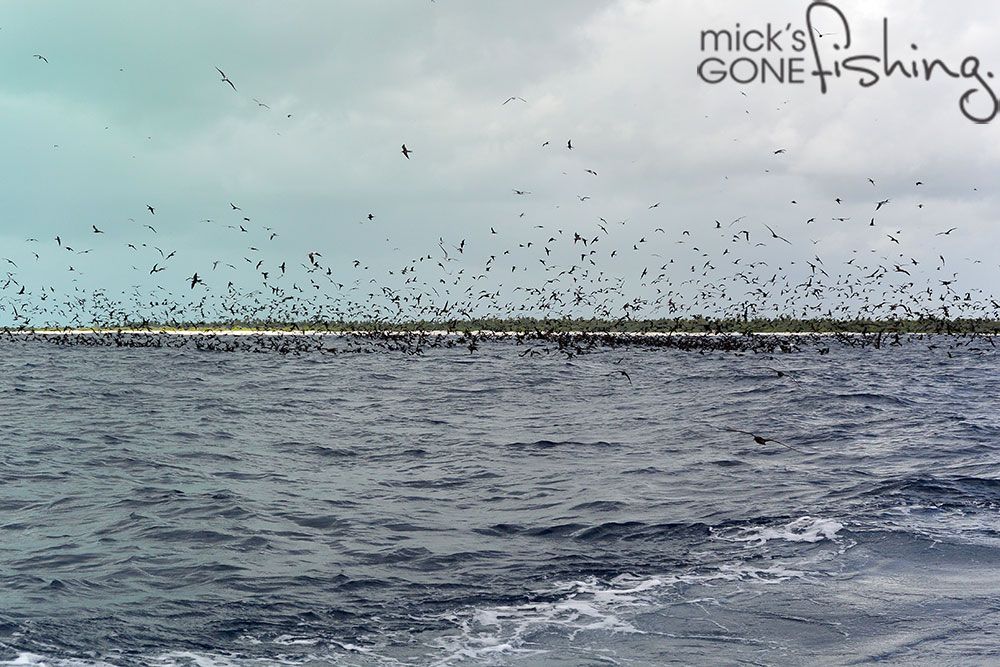 The day before I left for Kiribati I bought a second hand canoe with a little electric motor on the back, so as soon as I arrived home I tee'd up a trip with Dave to go and chase some saltys before the season closed. Dave had never caught a wild barra before so you can imagine his face when he hooked up to his first proper barra and to top it off this one went 103cm on a 20lb leader… So he instantly joined the metre club before we'd even reached our spot. Over the next hour or so I managed another 4 fish which went 86, 90, 95 and a 101cm all on the ever faithful Realis Jerkbait 120. I guess you can say the canoe has mojo!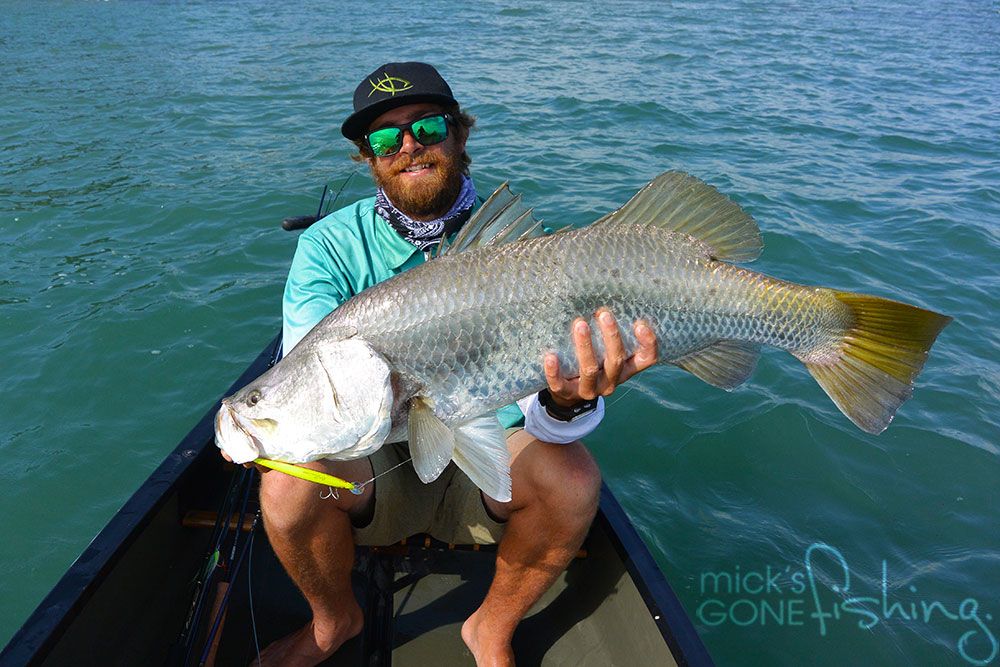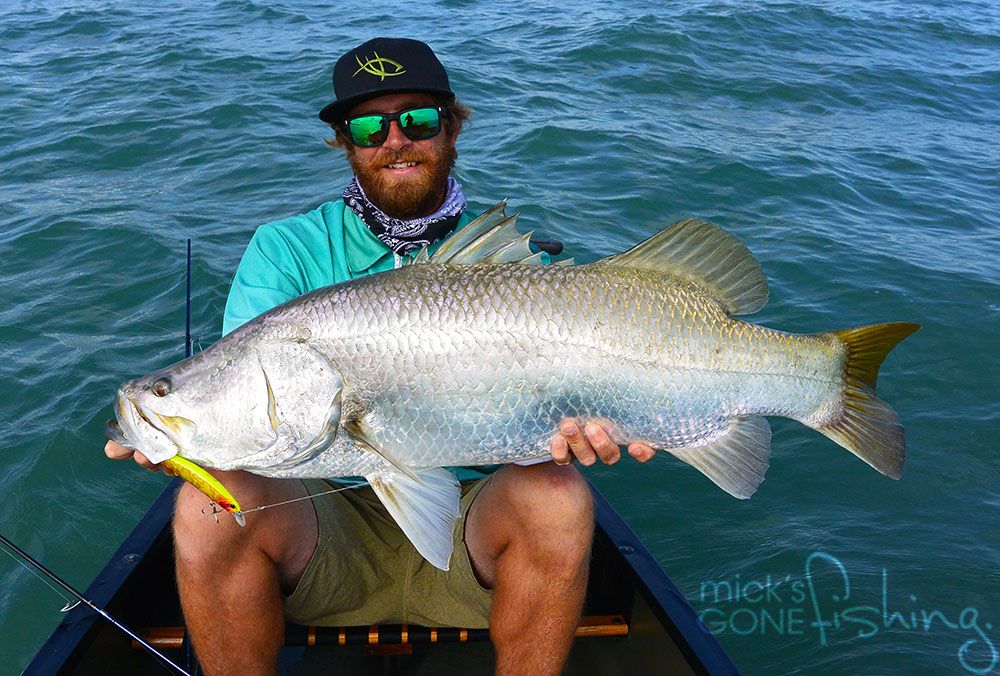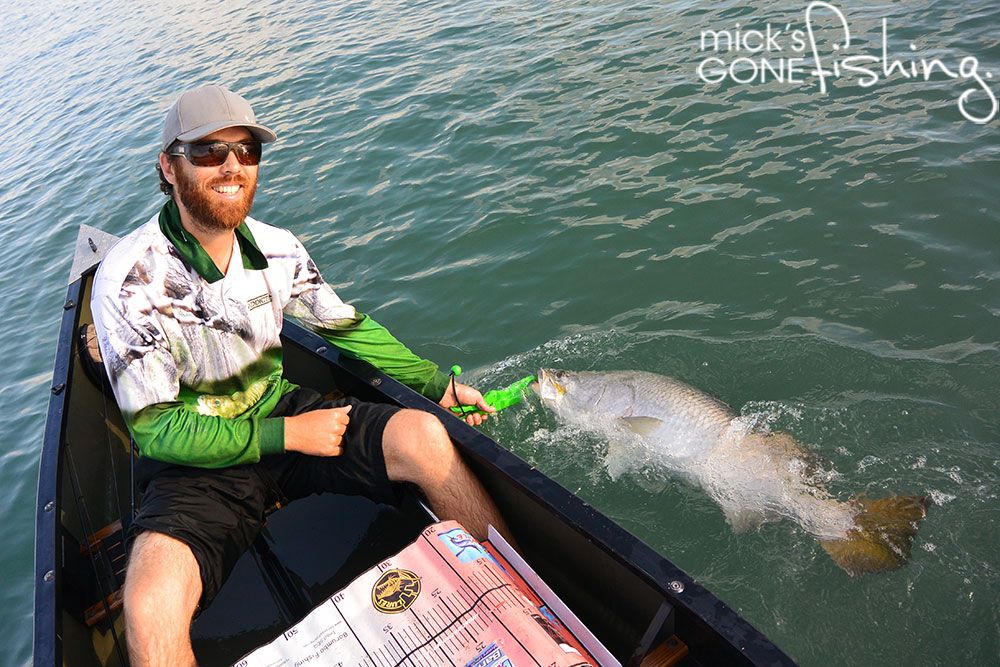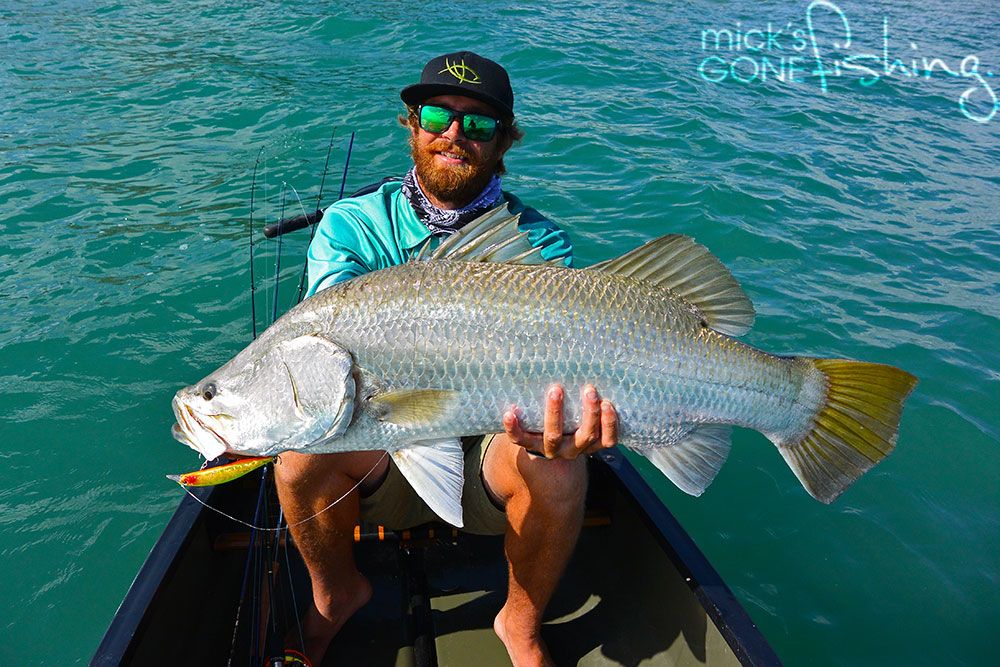 The following day I tried another spot on foot and managed another 5 fish on my trusty jerkbaits. A 75, 79, 84, 91 and a 104cm. I'm missing the last few pics from this trip from when my young fella got his hands on my camera but here's what I've got left (likely story ay hahaha)…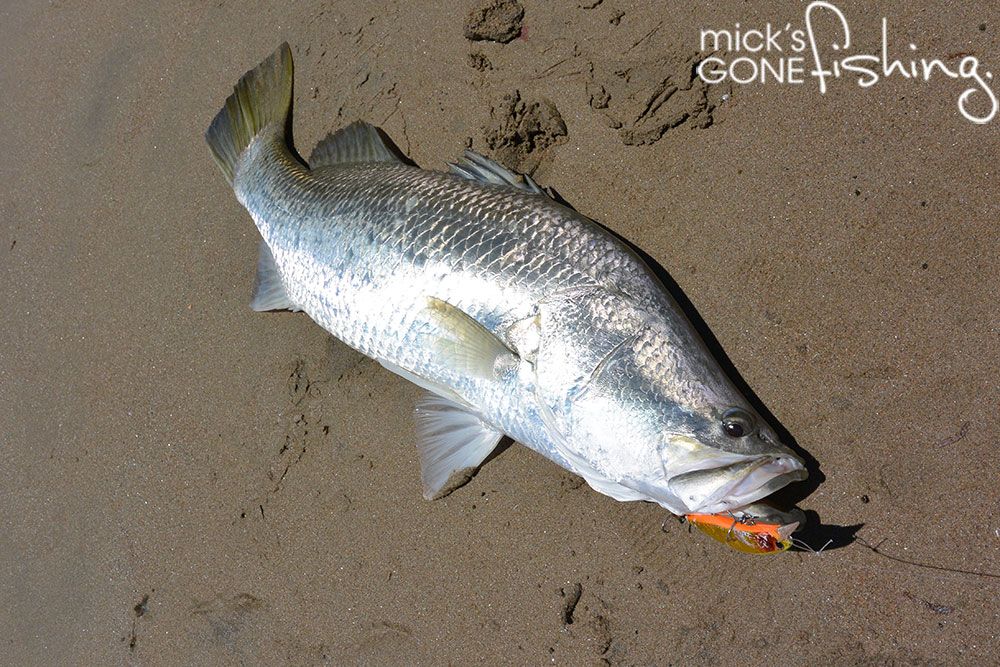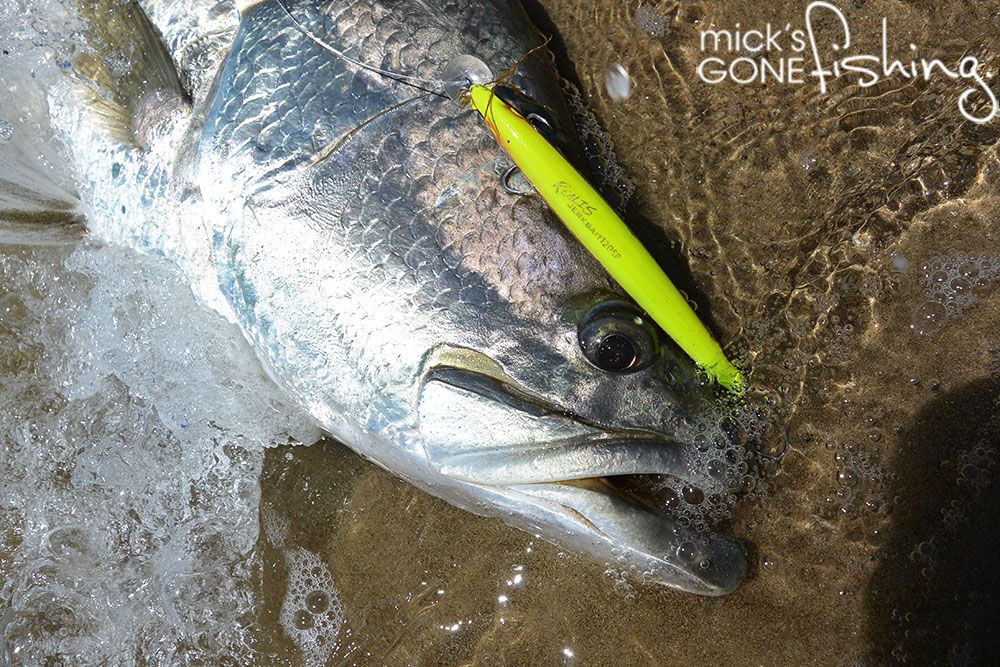 A few days later Mick and I went for another run in the canoe, it was looking like it was lining up to be a hot session with an estimated 110cm model throwing the lure on the jump on my third cast then Mick losing one on a transam minutes later but we slogged away for 3 hours without another bite. That was when this 110cm girl gave me a run and put on a real show and went on to prove that persistence pays off.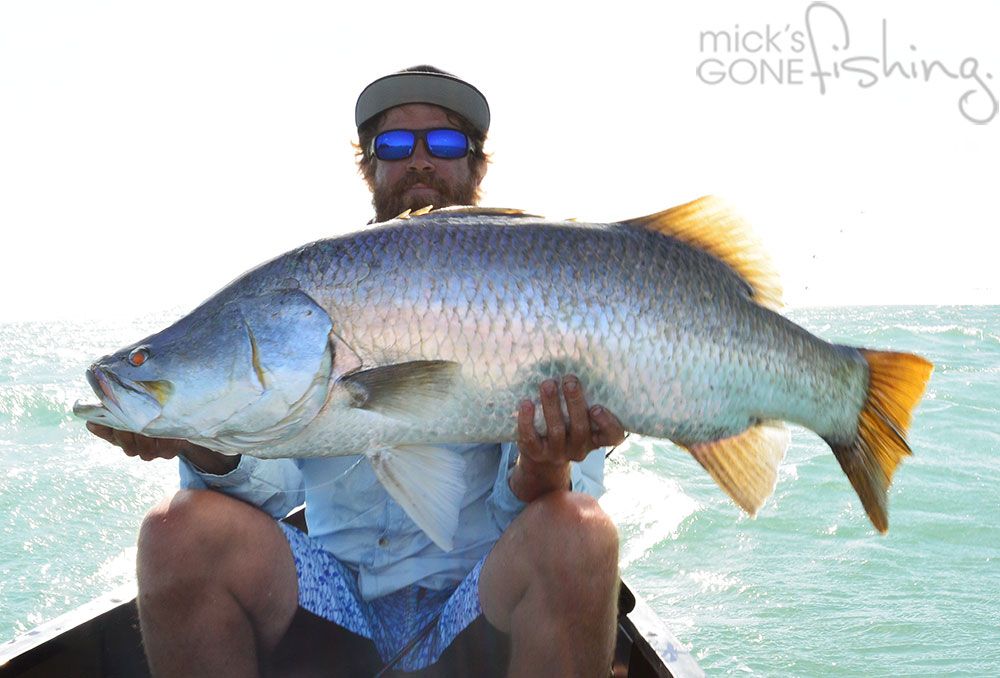 The following week the boys from DUO were up so I played guide, things were tough so we tried a few new locations with very little luck, Scott managed a nice little fingermark on the second day using a Jerkbait and a decent jew while we were out jigging but it wasn't until his last day that he banged a barra, only a little fella but at 79cm who's complaining. The day Scott left Steve and I took the canoe out and I jumped off a proper metery within the first few casts, that was the only fish we saw all day… The following day Steve banged a nice 80 odd centimeter fish which I lost trying to bring aboard the canoe, but he managed to redeem it with another fish a bit bigger the following day. I managed to get my second bite for the week which was a monster but it was sharked in the opening seconds of the fight :( two cast later I had my third bite for the week which took almost 200m of line out on the first run as it swam downstream with the current in shallow water, I saw the knot to backing and applied extra pressure to slow her down but it was too little too late and the braid popped. The next day Steve managed a good barra in the canoe on the Jerkbait 120 which made it all worthwhile. Other than that the only other fish landed for the week was a decent golden trevally which gave Steve a good run in the shallows.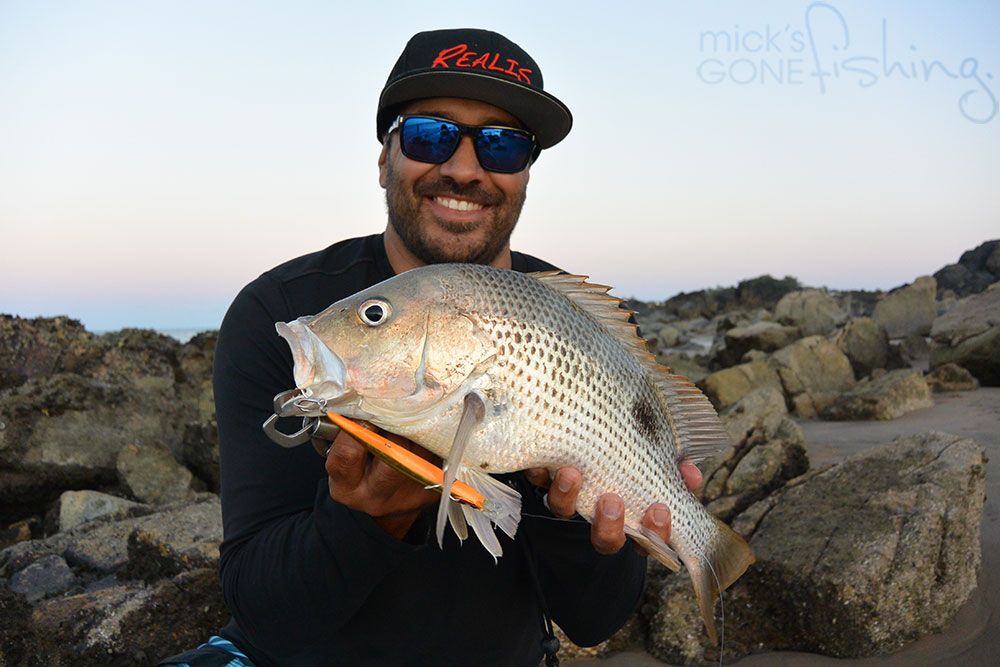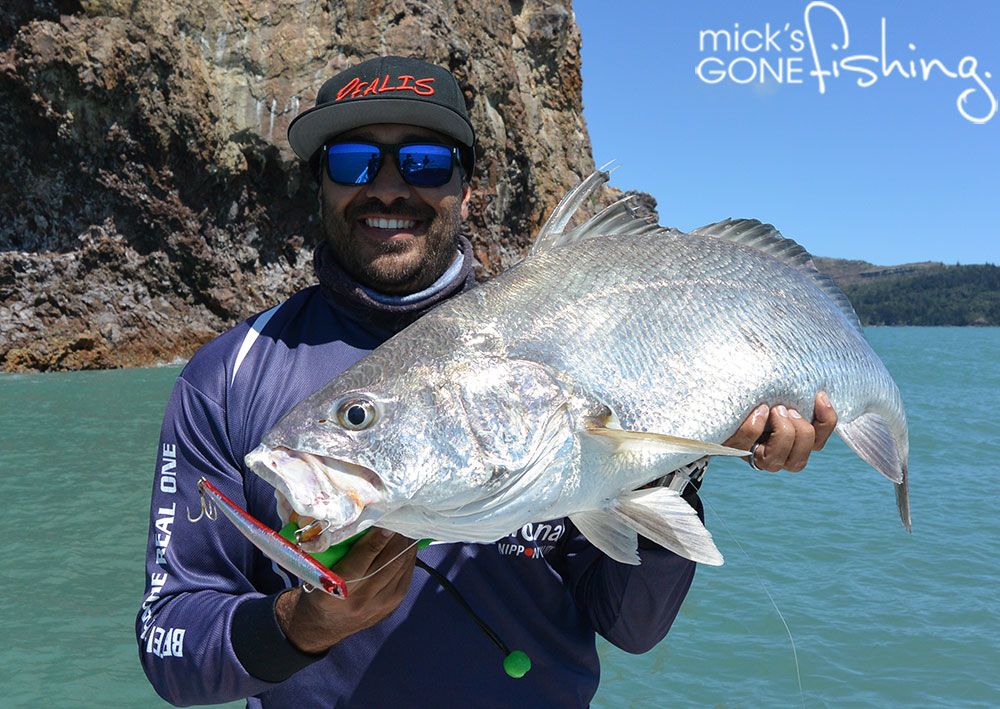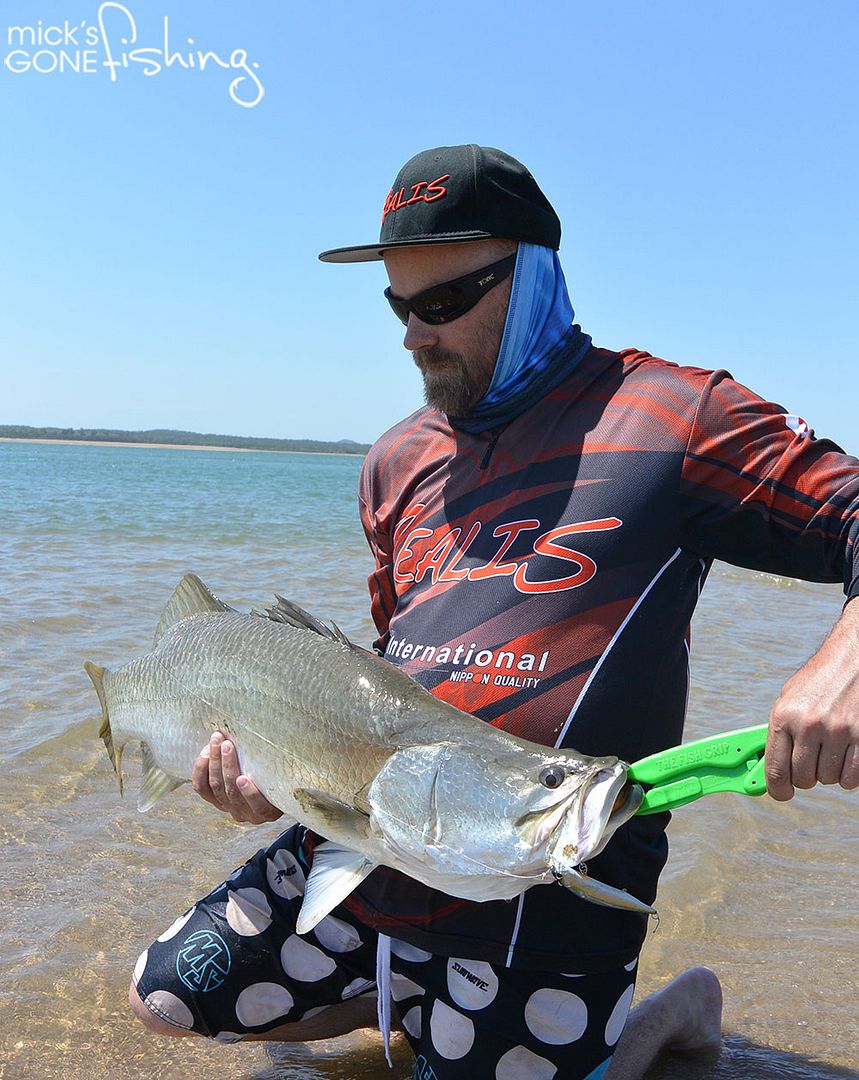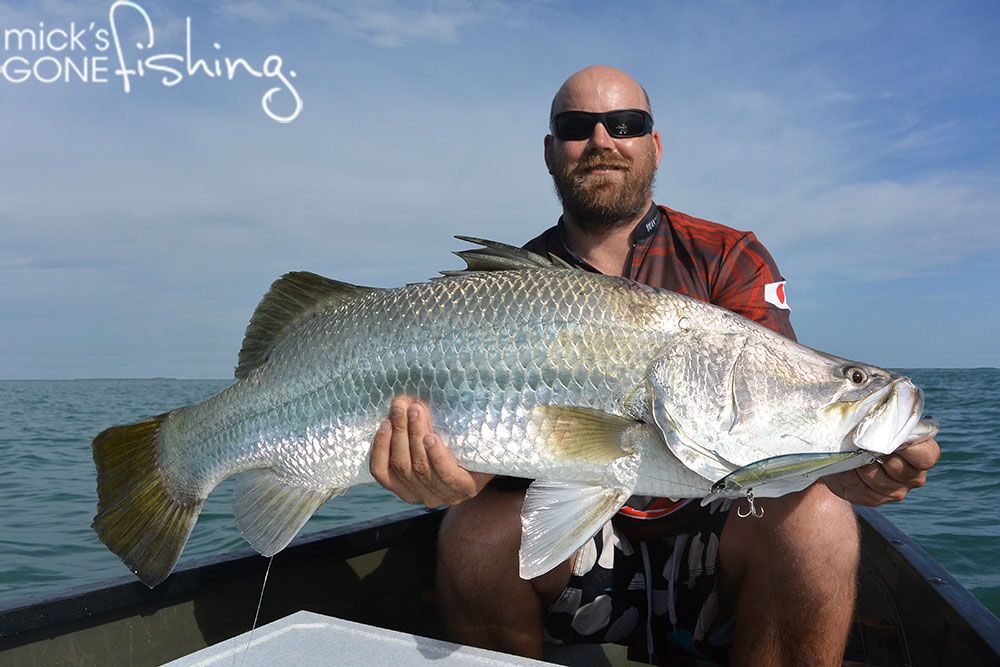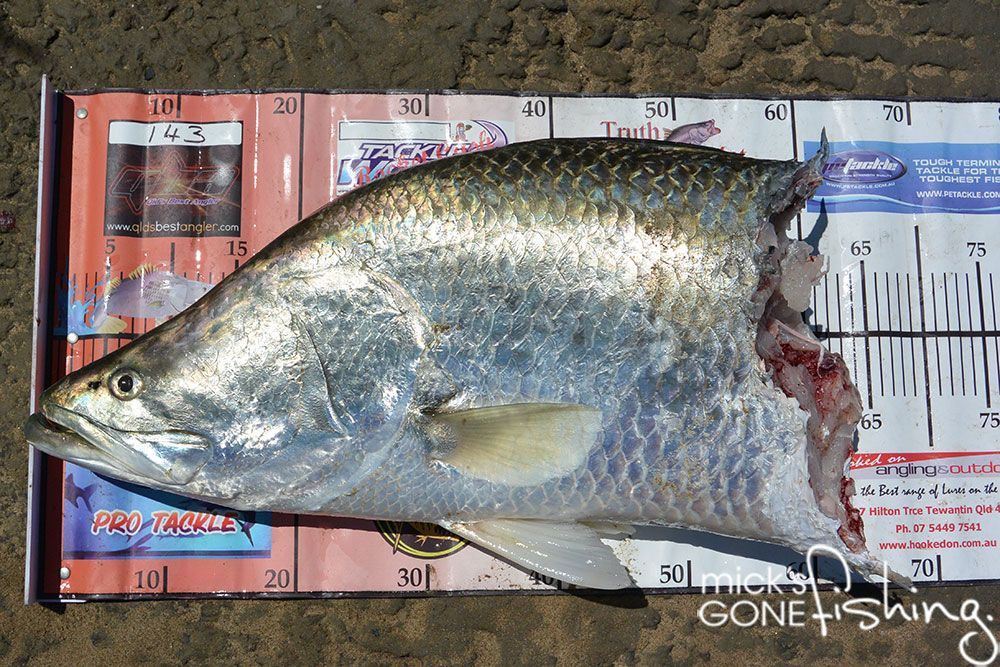 The day after the boys left I went for a run with my brother, it was almost as if I'd been jinxed the week before because in the hour or so that we fished we jumped off 2 big girls and I landed this 108cm model.
The following week Shane and I went up north to have a go at some jungle perch, we spent 3 days up in the rainforest and landed more fish than we could care to count. There were some solid chunks mixed in there including several 40cm+ specimens and Shane and I both scoring new PB's with Shane cracking a 45cm fish and my 50cm horse. I guess you could say it was a successful trip!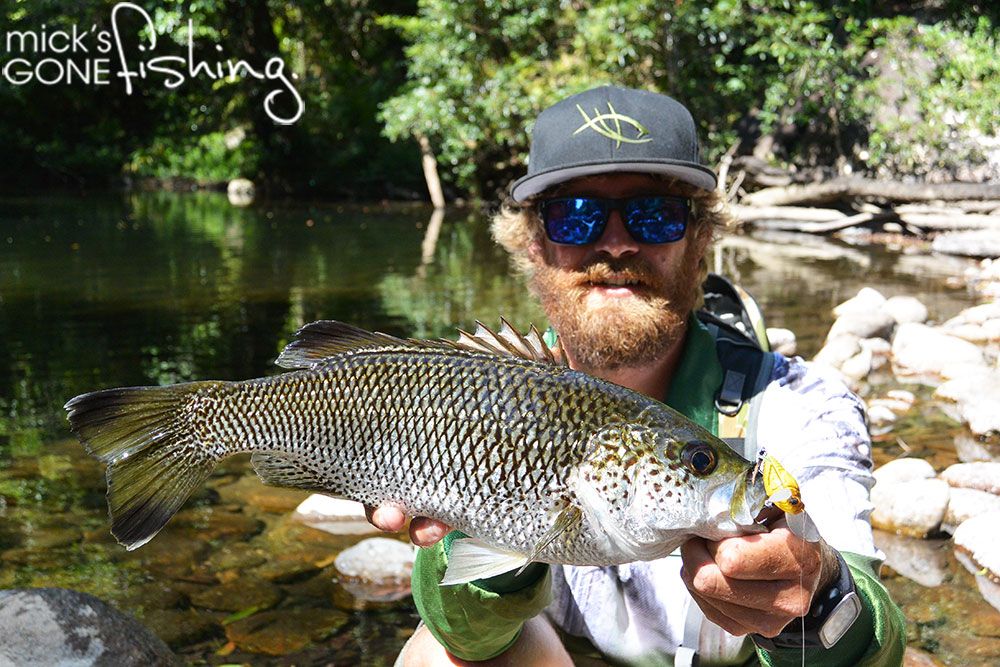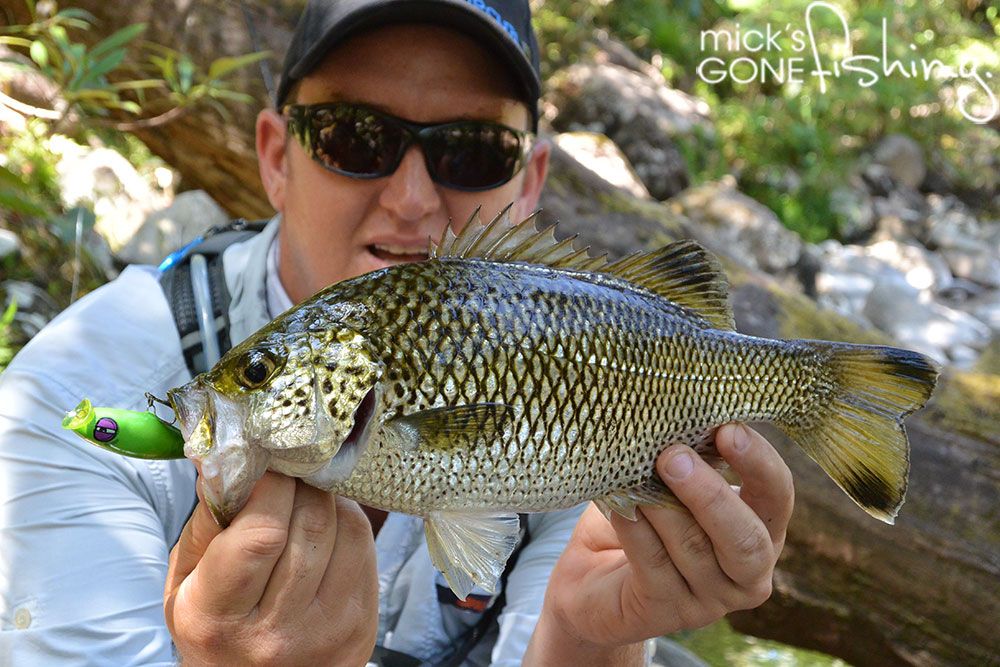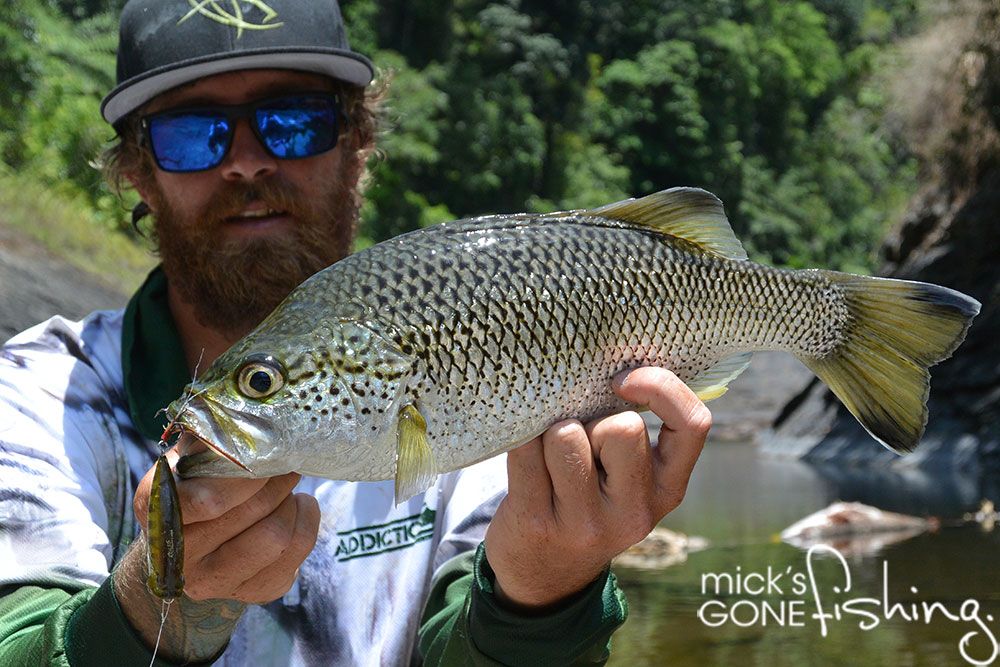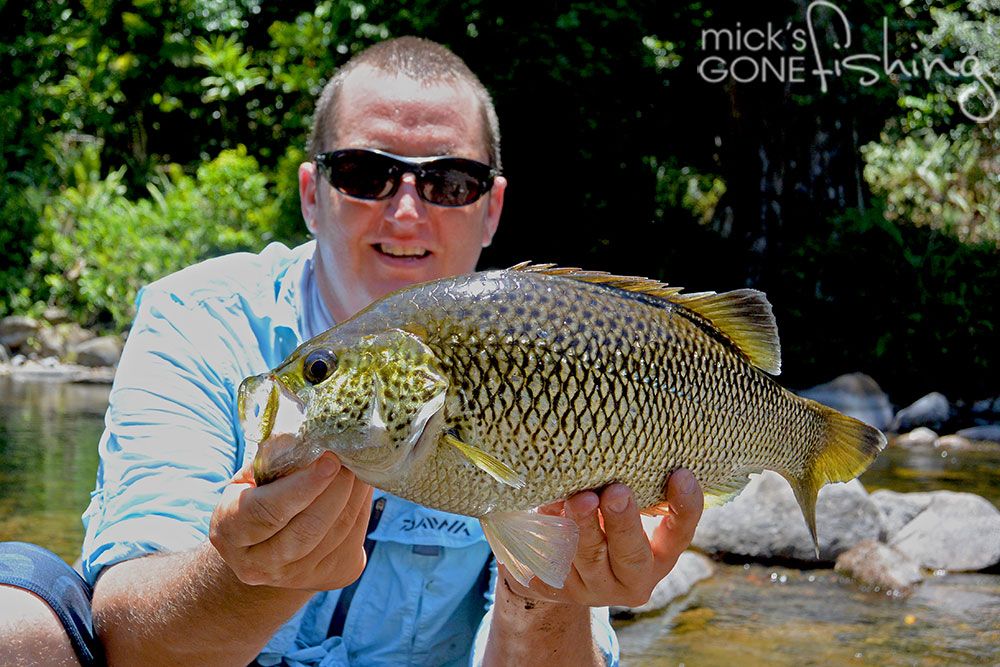 After returning home I spent a solid week fishing fly, in 3 days I managed to rack up 4 new pelagic species which made for a bit of fun! (There was also a little golden trevally but I don't have a pic)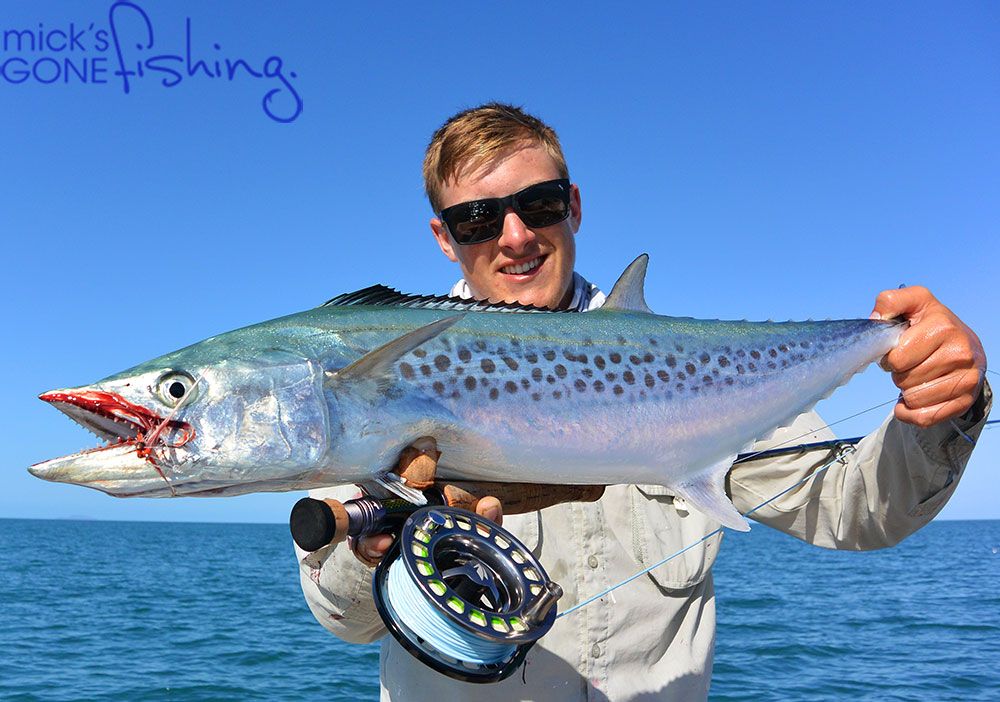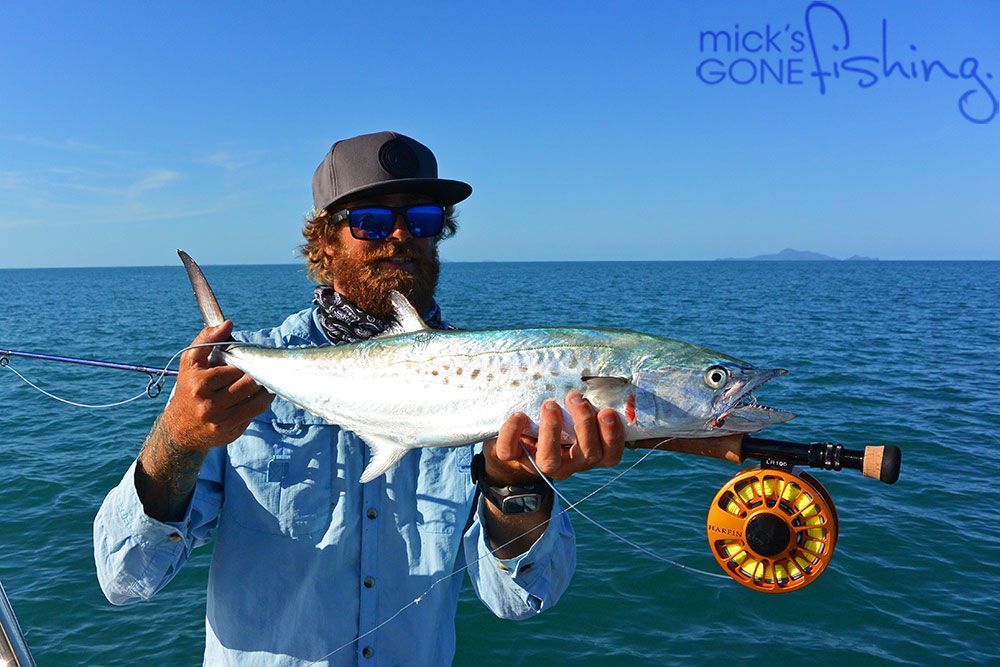 My next trip was a quiet one, we hit the islands and shoals jigging micro jigs and vibes and managed to scrape together a feed of trout on blades, a golden on a 40g jig and a decent spanish on surface using the Roughtrail Aomasa 148.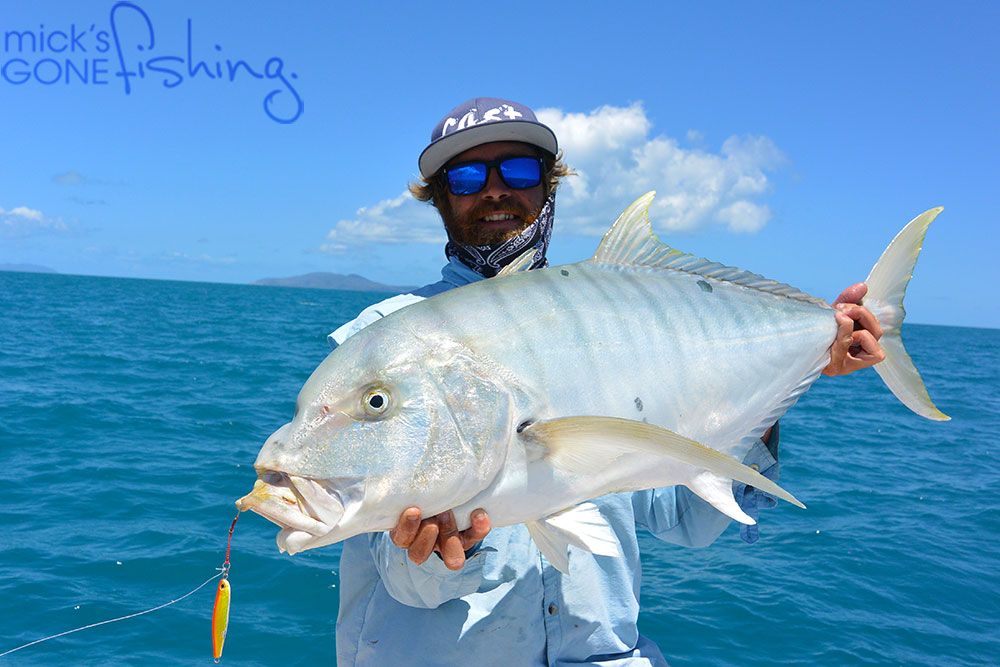 A few days later I went for a fly session with a mate on the flats, scored this school mackie and had multiple shots at big queenies and permit but couldn't entice a bite.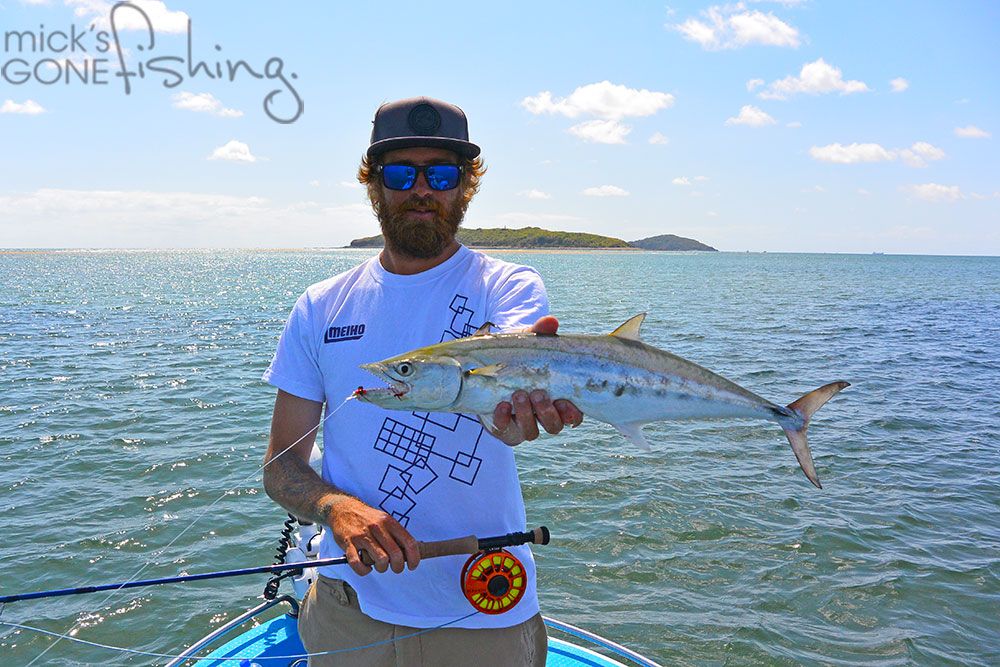 The next few afternoons were spent micro jigging the shoals, we got a few small cobia and a few various trevally species which kept us entertained.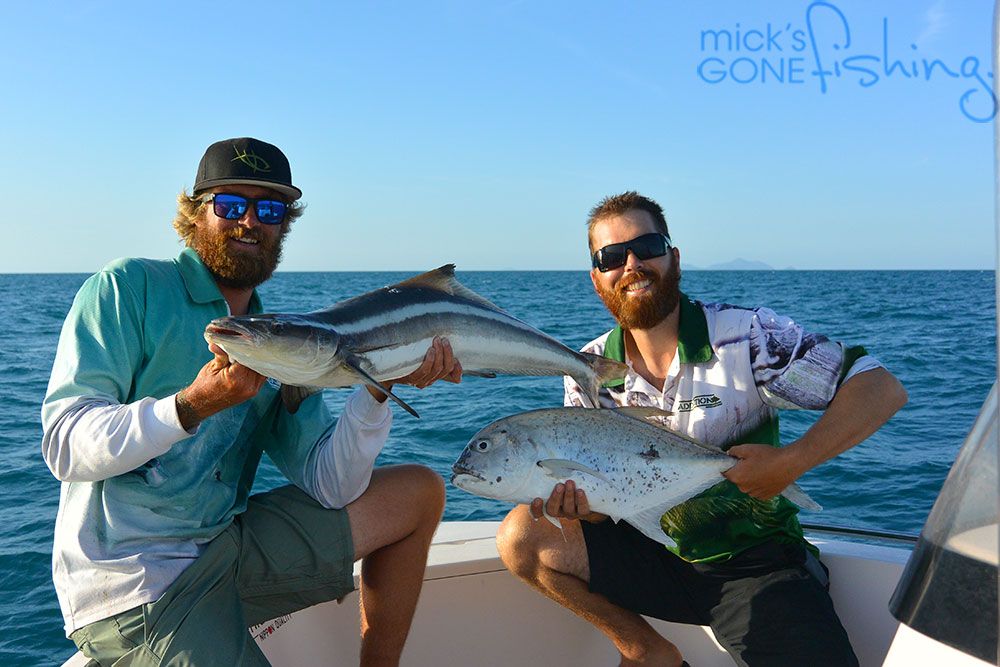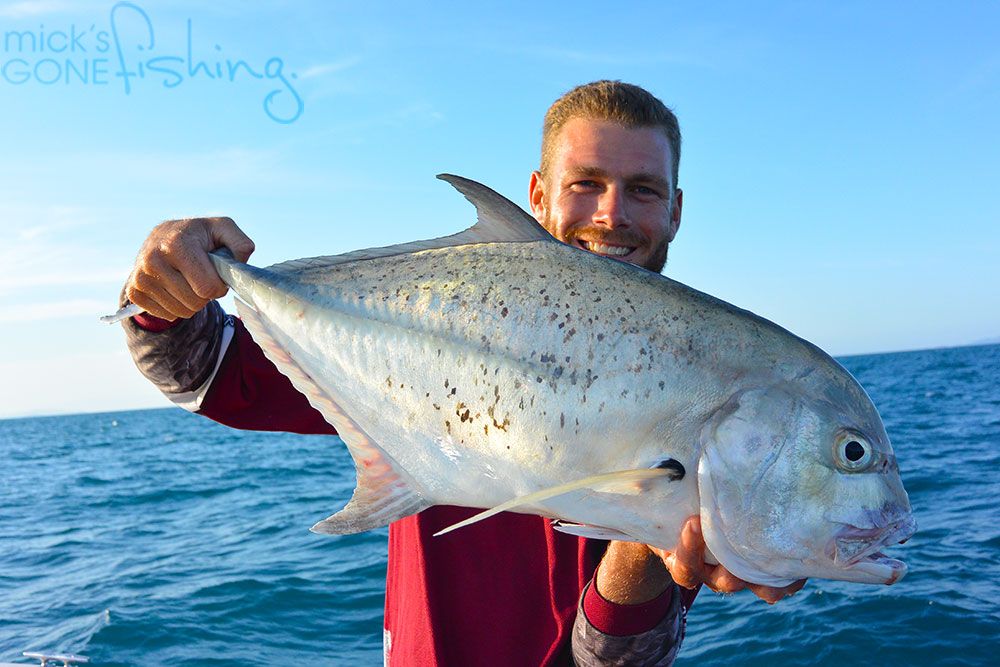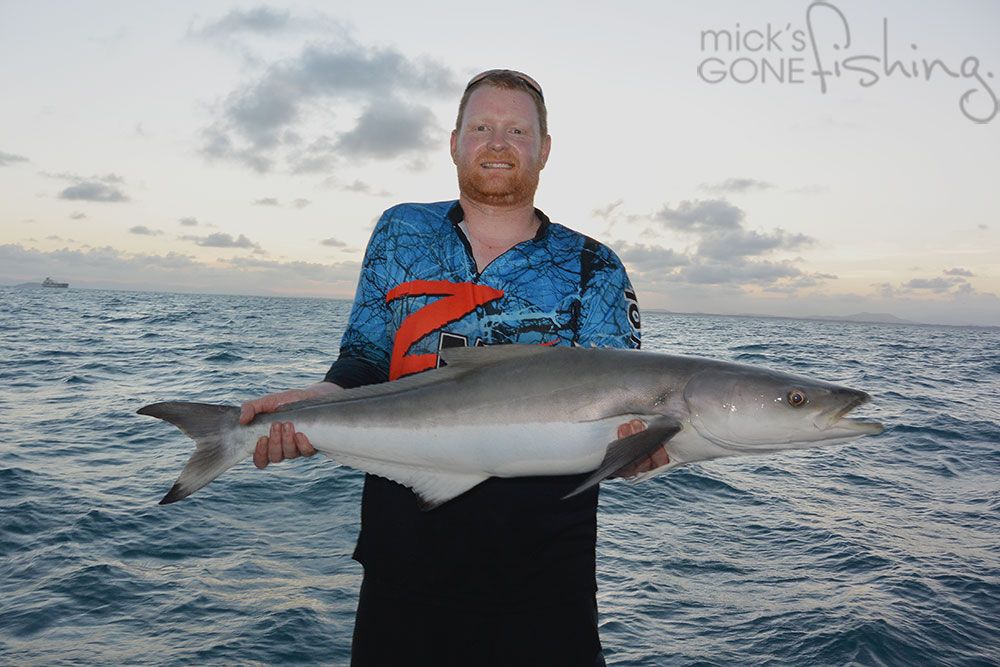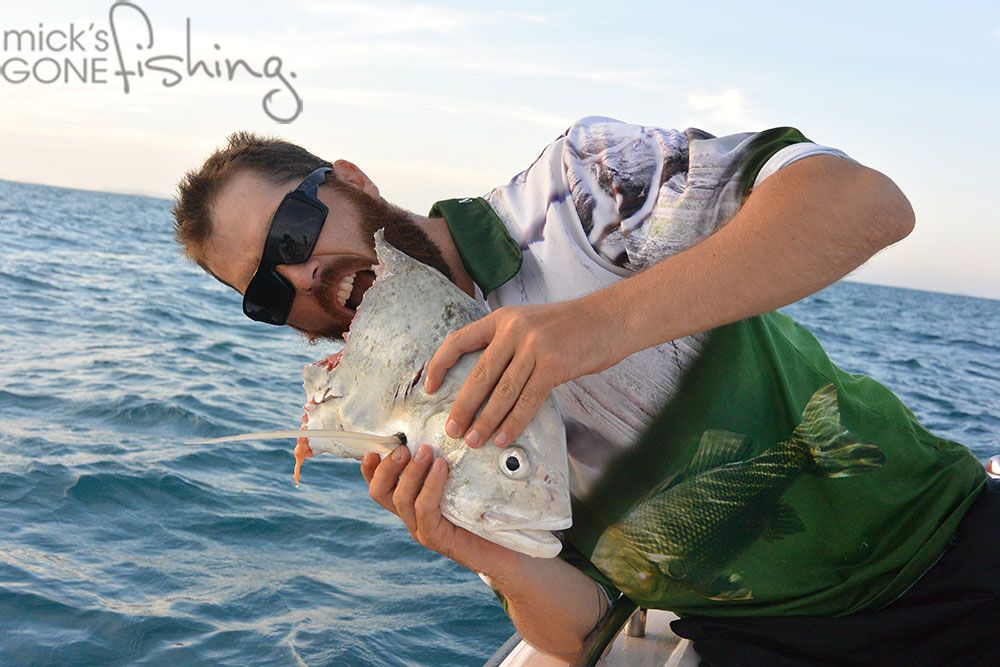 After that I was on a mission to catch a toga on fly, I've been out west several times now chasing them and had 5 bites and only 2 hookups with no fish landed, so it's proving to be a bit more challenging than I'd previously thought… We did however manage a few sootys each trip and Nate got one on spin to keep the enthusiasm there. – I will be back..!
Next trip we had the family up for Christmas so I took my father in law (who has never been offshore fishing) out for a run in the Grady, first up I nailed a decent cobia on a 50g jig then Tony backed it up with a couple of golden's, mackerel, tuna and got smoked by a GT around the 25kg mark on an Aomasa 148 on Pe4. I don't have pics of the fish Tony caught but here's the cobia.
Then the rains came and there was nothing to do but fish the dam. I hit up Teemburra with Geoff in his nitro and we managed one big sooty and a small barra but other than that it was dead so the following few days I hit Kinchant and banged 12 or so decent barra, only 4 over the metre mark but the rest were decent sized on the new DUO Beachwalker Haul soft plastics.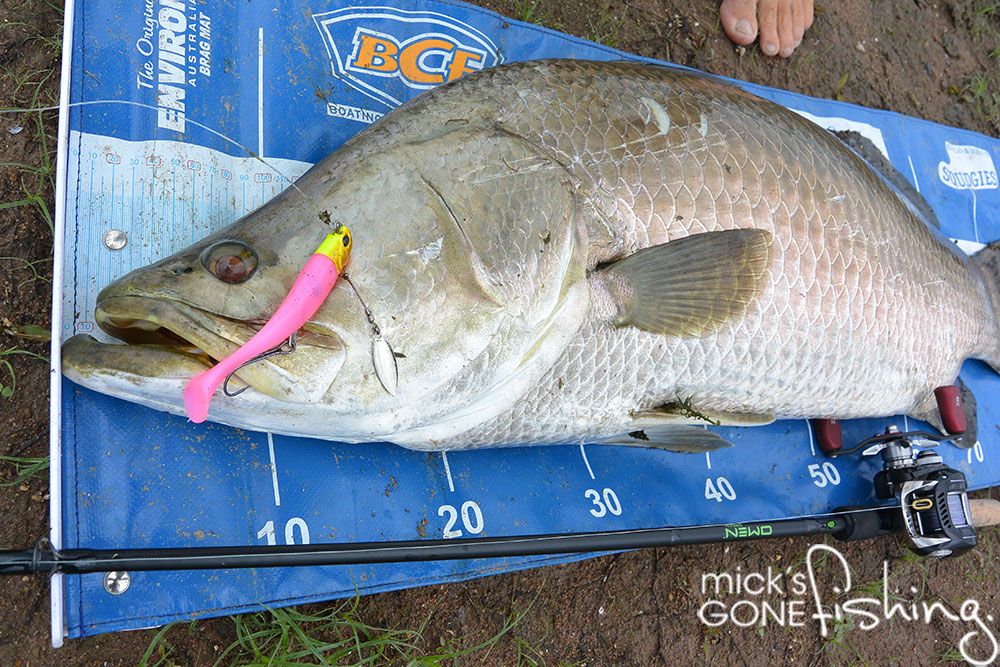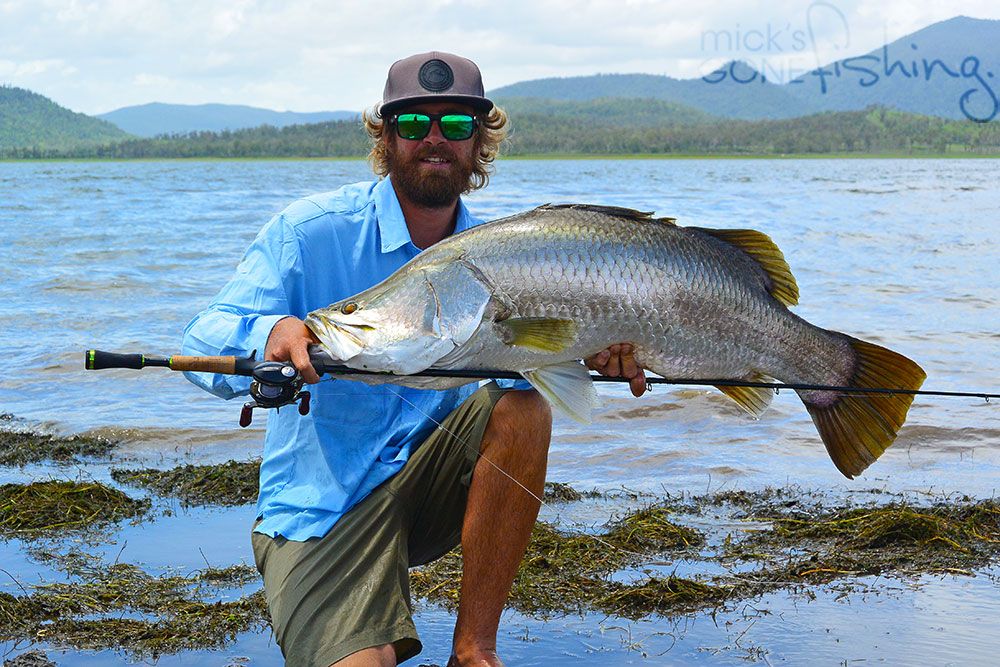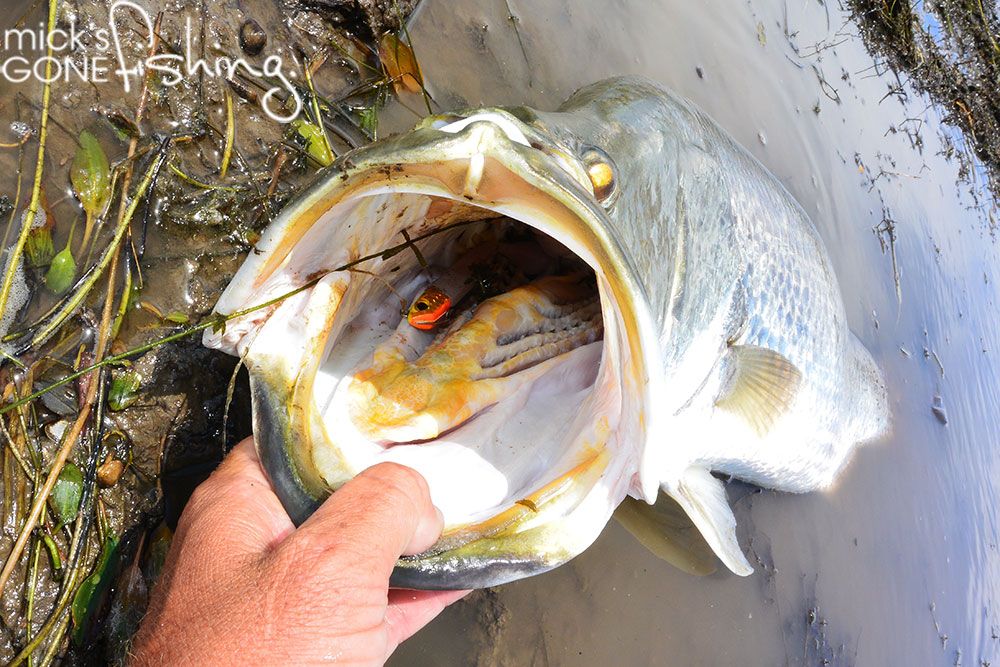 The other day Dave and I hit up the dirty water out on the shark nets to try and find some triple tail. We were unsuccessful there but Dave did manage a nice golden on a 2-4kg rod and a DUO Deep Feat.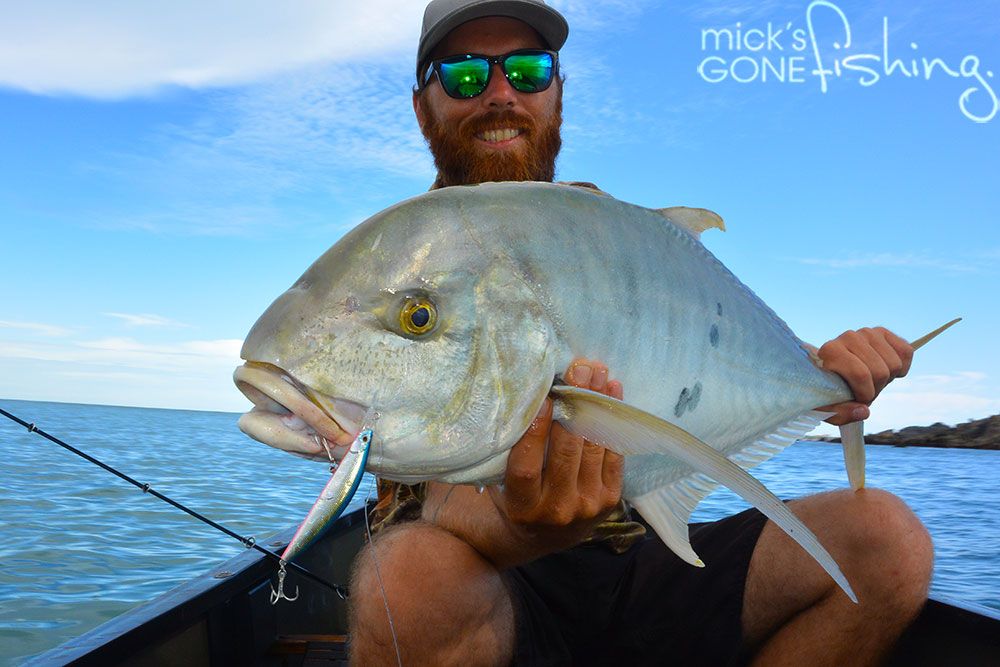 I've had a couple of other trips offshore where we have caught fish but nothing really brag worthy so I haven't bothered taking many pics. So that's all I've got for now, I'll no doubt be back soon with a trip report and as I stated earlier I will be keeping the blog more up to date as of now.
Thanks for reading!